Springtime is often full of wonderful occasions with loved ones. I was thinking about those traveling to family gatherings and hoping all arrive safely. As I was considering these circumstances and the people involved, I got to thinking how fortunate I am to have my family today. They are my best friends in the entire world. I was reading a blog post from my daughter where she was articulating the things for which she is grateful, and I could see so much goodness in her. I wanted to write to her and tell her how pleased I am with her choices and how great it is to be her father.
I wanted to tell her what a choice young woman she is and beautiful inside and out. I wanted to share with her my realization of her capacity to achieve anything she wanted and how people love being around her and drinking from the Well of Living Water which she embraces. I have always referred to my young daughters as princesses. I know now her queenly endowments will bless kingdoms in perpetuity.
Proud of my girl
I revel in the sheer volume of goodness that she will bring into the life of her husband, children, friends, family, and young women in her ward where she will serve throughout her life. I wanted to tell her that because she is choosing the strait-and-narrow, she will raise her children unto the Lord and bless their lives, her posterity, and countless others with whom she will associate. I desired to tell her all of this and much, much more…but I am her father.
She would be skeptical hearing those words from me or at least think I was exaggerating her potential. I'm not. But dads are supposed to say those kinds of nice things about their daughters, so the very fact that I am articulating her qualities somehow demeans them, right? Well I don't intend it to, but just to be sure she understands, I decided on a backup plan.
So I thought maybe I could have someone who is not prejudiced in her favor tell her the same thing. That way, she could really believe what I am saying about her capacity for good and marvelous potential…so I turned to someone she could believe without question—God. What has he said about the potential of the youth of our day?
"We must help young women immerse themselves in a selfless work, perhaps receiving little public praise or attention. Instead, they must feel the Lord's great love for them and their efforts through the influence of the Holy Ghost."
—Sister Neill F. Marriott of the Young Women general presidency
Faith
As taught by RICHARD G. SCOTT of the Quorum of the Twelve Apostles "Your consistent exercise of faith builds strong character. A secure foundation for your growing character is laid by making Jesus Christ and His teachings the center of your life. A consistent, righteous life produces an inner power and strength that can be permanently resistant to the eroding influence of sin and transgression.
"If you have determined to live righteously, don't become discouraged. Life may seem difficult now, but hold on tightly to that iron rod of truth. You are making better progress than you realize. Your struggles are defining character, discipline, and confidence in the promises of your Father in Heaven and the Savior as you consistently obey his commandments.

"May the Holy Ghost prompt you to always make decisions that fortify your character and yield much joy and happiness."
The elect of God has taken on new meaning to me in recent years. While I had previously fashioned that this terminology must refer to privileged or pleasant circumstances and a position of stature, I now feel elect is a calling—a charge—if you will. Doctrine and Covenants 121:33-36, 45
Whether you are a young person living in this world or an older person rearing the youth of our day, you are privileged to be among the greatest generation to ever grace this planet to make none-to-fine-a-point about it. Your involvement ushering in the Second Coming of Jesus Christ, which has been prophesied for thousands of years, has and will be the greatest work you ever do. You have already begun in your home, church, and school. Perhaps you are wondering " What is so great that I am doing?"  That's a fair question and deserves an equally articulate answer.
Standing as witnesses

Believing in the miracles of Jesus Christ

Lifting and building others

Reflecting the image of Christ in your countenance

Rearing a fine family

Serving in the temple

Living the gospel line upon line
The worth of every soul is great in the sight of God. Your faith and dedication to him puts you in a unique position to fulfill his work on earth.
Remembering Christ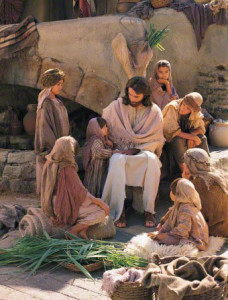 Christmas time is the glorious occasion when we remember the birth of the Savior of the World, who condescended from heaven above to the earth below and performed the greatest and most important act in time and all eternity—the Atonement of Jesus Christ—which opens the way for us to realize our possibilities and reach our full potential.
Easter is the occasion when the world celebrates the resurrection of Jesus Christ and the re-birth of all men made possible through him. Because of his atonement, we can return to our Father In Heaven and live with our families and loved ones for eternity. We will enjoy happiness forever. At this time Christians the world over join together to praise and adore him.
During his crucifixion, he forgave his tormentors and prayed in their behalf that his Father would forgive them because they did not understand their actions. Yet their mocking, ridicule, and appetite for murder fulfilled God's plan instituted in behalf of his children, even when we do not fully understand his purposes.
Every week we renew our covenants with Jesus Christ and promise to strengthen our brethren, share one another's burdens, mourn with those that mourn, comfort those that stand in need of comfort, and witness of God at all times and in all places throughout our lives. Mosiah  18.8-10
This is all done that we might fulfill our roles. And we are told that if we are faithful all our losses will be made up. 
"All your losses will be made up to you in the resurrection provided you continue faithful."
Teachings: Joseph Smith, 51, emphasis added.
His promises are sure. We can see their fulfillment all around us and know that they will all come to pass in due time of which the following is a portion:
Church will fill the whole earth

Forever families will be organized for eternity

Exaltation (live the life God lives) is our supernal blessing

All things work together for good to them that love the Lord

Blessings so numerous there is not room enough to receive them

Resurrection and an eternal inheritance
Despite the hardships you may be facing right now, knowing that God's promises will all be fulfilled gives us hope. We can all claim victory in Jesus Christ. We have all been helped when we needed it. In this particular instance, we really need it. Begin now rallying around your children and the youth of our day that can offer a lift, because when it comes right down to it, you have the capacity to share the message that can revolutionize the world. YOU are his hands.
Start changing lives today, beginning with your own.
Here are some videos to inspire you.
https://www.youtube.com/watch?v=srYKbh4ASuw
About Walter Penning
In 1989, Walter Penning formed a consultancy based in Salt Lake City and empowered his clients by streamlining processes and building a loyal, lifetime customer base with great customer service. His true passion is found in his family. He says the best decision he ever made was to marry his sweetheart and have children. The wonderful family she has given him and her constant love, support, and patience amid life's challenges is his panacea.
Twitter •