The month of July makes me yearn for home. Not because the weather is any more pleasant during July in Michigan than it is here in Pennsylvania, but because it is cherry season!
Normally our local produce section offers only sweet cherries from Washington State and no tart cherries at all. So I was touched by a bit of nostalgia when a local orchard advertised that tart cherries from Michigan would be available soon.
The majority of cherries grown in the United States are in the Pacific Coast states of Washington, Oregon, California, and the North Central state of Michigan. All of these states grow a variety of cherries, with the northwest producing around 90% of the sweet cherries available for sale in the United States. With approximately 3.8 million tart cherry trees, Michigan accounts for roughly 70% to 75% of the tart cherry market, most of which are used for jams, pies, and other desserts.
The climate of the Northwest United States is ideal for cherries to grow in, but the unique combination of sandy soil and temperature controlling winds coming from Lake Michigan, provides the growing conditions that make this seemingly unlikely state the perfect place for cherry production; especially for tart cherries.
Each summer when I was a young girl my Grandma Briggs would take me to the local farmers market, in July, to buy cherries while they were at their peak. Unlike many fruits that may be available to us throughout the growing season, cherries have a relatively short space of about 4 to 6 weeks for harvest. They also have a short shelf life so unless you want to pay more for them in the frozen food isle you must buy them during that window of time.
Grandma would buy several lugs of sweet and tart cherries, and then she would divide them up between herself and her extended family. I remember when I was older, sitting in the backyard, completely covered in one of Grandma's big full length aprons. Pitting cherries is a messy business, and the cherry juice will stain. The apron protected my clothes, but my hands would show the stains for days afterwards. We would sit for hours pitting cherries while my Mother would pack them into cartons to be put in the big chest freezer. It was a lot of work, but it was so worth it.
One year my sister and I, and a mutual friend of ours, made the 3 hour road trip to Traverse City, Michigan to pick our own cherries. We took a large cooler with us and made a day of it. No doubt we could have purchased them for a lot less at the local market, but the beautiful scenery along the road, the fun of climbing in and out of the cherry trees, and enjoying the local treats of the season made for quite an adventure. We had a great time, and those memories would always be with us. And with our share of the spoils I made Cherry Jam!
During July in Traverse City everything is cherry flavored, but I think my favorite treat was the old fashioned hand dipped Cherry milk shakes.
In Michigan the sweet cherries are grown primarily for fresh eating. They don't produce enough to sell on the commercial level. The sweet cherry varieties that are grown in Michigan are the Emperor Francis, Napoleon, and Schmidt. Tart cherries however, being the largest percentage of the yearly crop, are sold both on a commercial level and to local consumers. I am fond of eating tart cherries just as they are, but most people prefer them for baking. The Montmorency is the most common variety of tart cherry grown in Michigan and is used primarily in jams, juices, preserves, and pie fillings.
The dark sweet varieties are for eating out of hand, but many of the golden sweet cherries are made into Maraschino cherries.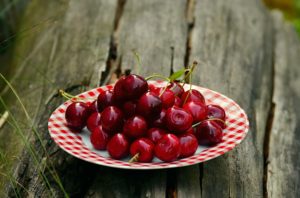 Maraschino cherries, which you have probably seen on your ice cream sundaes, originated in Yugoslavia and northern Italy and are made from golden sweet cherries. But regardless of how attractive they may appear I would strongly advise against eating them as they are anything but healthy.
Hold onto your stomachs folks, the process for making Maraschino Cherries isn't very appetizing.
The process requires sweet cherries to be bleached in a brine solution of one percent sulfur dioxide and one-half percent unslaked lime (calcium oxide), for four to six weeks to remove most of the color. After that, they are pitted and bleached again with sodium chlorite. Then they are soaked in fresh water for a couple of days before sugar, red dyes, and almond flavoring are added.
I don't know about you, but after reading the process for making Maraschino Cherries I had no trouble giving them up.
Natural, untreated cherries however have a host of health benefits as well as a delicious taste that many of us crave.
Cherries have anti-inflammatory properties and are rich in potassium, vitamin C and B, and they contain antioxidants and melatonin as well as flavonoids. These help to prevent cancer and cardio vascular disease, in addition to reducing the effects of inflammation on the body.
My family likes to eat them fresh for as long as we can during the season. Cherries may be canned, but they retain their fresh flavor better when frozen. It is much easier to find frozen cherries, at a reasonable price today, than it was when I was growing up, so it isn't necessarily expedient for you to buy in bulk to freeze your own if you don't want to. But prices are often better during the peak harvest time and I like to have frozen cherries on hand in my freezer so that I can add a few to fruit salads throughout the year, so I usually try to buy in bulk and freeze some of my own.
If you want cherry pies during the off season, without having to buy canned pie filling, which may have ingredients that you do not want to feed your family, it might be a good idea to purchase a few quarts of those elusive tart cherries before they are gone as well. Look for them at your local farmers markets or pick-your-own-orchards; as they are virtually impossible to find fresh in the grocery stores.
Whatever way you like to eat cherries, make sure you take time to enjoy them while you can, because it won't be long before they are once more just a pleasant memory of summer!
Tart Cherry Jam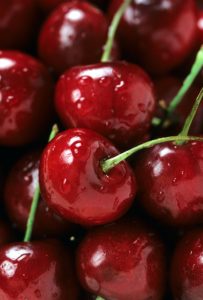 Ingredients:
6 Cups Pitted Tart Cherries
2 and ½ Cups Organic Cane sugar
Instructions:
Slice pitted cherries into quarters.
Stir cherries and sugar together in a large saucepan and bring to a boil.

Boil rapidly for 20 to 40 minutes until it comes off a spoon in a sheet instead of in drops. To be sure it is ready to jell, have a small plate in the freezer. After it passes it sheeting test, drop a small amount of the mixture onto the plate and return it to the freezer for 1 minute.
If it wrinkles when you push it with your finger it is ready. If it doesn't wrinkle, boil the fruit for a few more minutes, then repeat the test until it is ready.
Remove the pot from the heat and ladle into pre washed and sterilized jam jars. Wipe the rims of the jars and put on the lids and rings to secure the lids in place.
Process in a pre-heated boiling water bath for 10 minutes making sure the water covers the jars throughout the entire process.
Remove the jars from the canner with a canning jar lifter and place on a towel on the counter to cool.
As they cool you will hear the seals pop into place. After they are cooled check the tops to be sure they are sealed before storing in a cool dry place. It there are jars that did not seal properly you should store them in the refrigerator and use them within a few weeks. Do not store them in your cupboard if the seals did not take because they will spoil.
Resources
http://eatseasonably.co.uk/what-to-eat-now/this-months-best/category/july-best/
http://www.ncbi.nlm.nih.gov/pmc/articles/PMC1082903/
http://agilewriter.com/History/CherryCapital.htm
https://www.traversecity.com/area/about-traverse-city/cherry-industry/#
http://planthardiness.ars.usda.gov/PHZMWEB/
http://www.agmrc.org/commodities-products/fruits/cherries/
About Denise Mastrocola
Denise is a Michigander turned Pennsylvanian, who has been writing stories since Elementary School. Denise won an award at the annual Lansing Youth Talent Show, when she was in 10th grade, for a short story entitled Procrastination is Fatal, but didn't decide on writing as a career until she was 28 years old. While homeschooling her older children she spent 4 years working through a course from The Institute of Children's Literature. Through the years Denise's children have had a variety of health issues, many of which have been linked to various sensitives; having spent more than 20 years researching and trying different things Denise has a boots on the ground view on healthier living. Denise currently writes for 2 blogs and has several books in different stages of completion. She is planning to break ground in e publishing, and hopes to have her first Historical Fantasy book which is set during the renaissance, "Lisa, My Lisa?" ready by the first of the year.
Twitter •