I hope you are all enjoying the Summer Olympics in Rio de Janeiro as much as I am. I've been a huge Olympics junkie all of my life and so whether summer or winter I love watching any event I can get my hands on. In tribute to the games in Rio I thought it would pick a film set in Rio, in fact named Rio, for my family movie night pick. Rio is also appropriate because we recently had the release of Ice Age: Collision Course by studio Blue Sky and I think Rio is far superior to that film. Rio may be a bit forgettable but it's still an engaging, fun little animated film.
Released in 2011, Rio is the story of Blu, a macaw voiced by Jesse Eisenberg, who is dependent upon his owner Linda to survive. He doesn't even know how to fly. To save his species he and Linda head to Rio to try and find a mate for Blu. There he meets a female macaw named Jewel voiced by Anne Hathaway. Unfortunately things get busy when right before Rio Carnival both Blu and Jewel are abducted by thieves after them for their rarity.
The rest of the movie is spent with Blu and Jewel trying to find their way home with the help of a toucan named Fernando and a bulldog named Luiz.  Their owners Linda and Tulio are also looking for them through all the Rio Carnival madness. They are also running from a hilarious cockatoo named Nigel (voiced brilliantly by Jemaine Clement. For years I thought it was Tim Curry's voice).
It's not the most original set up for an animated film. It's basically a cat and mouse chase type story but it's executed in a charming way, which is obviously the key to any good movie. You can have the greatest idea ever but if it isn't executed well it will fall flat on its face.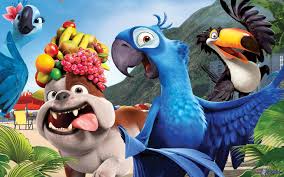 Anyway, one of the most pleasing parts of Rio is the relationships between the characters. I particularly liked the chemistry between Blu and Jewel.  It builds in a semi-realistic way.  Also it is nice to see Blu become braver and gain more confidence as the story commences.
There are also some good jokes and musical numbers. The bright colors, rhythm of the samba comes through every time. Jamie Foxx ends up getting a large hunk of the jokes but they work and there isn't the innuendo or other tawdry moments you expect in a film like this from Blue Sky.
On the negative side, while I enjoy the music I don't know if it fit in with the story. Also Eisenberg and Hathaway can get a little annoying in their vocal performances.  Also the vocal performances are a little bit annoying at times but for the most part I was fine with them.
All in all, Rio is an engaging sweet family movie. There is one scene where Linda, the human character wears a very skimpy outfit for the carnival but it will hopefully go over most kids head.
The animation, like I said, is beautiful in Rio and overall it is a very sweet little animated film. It's not too cynical or cash grab like the Ice Age movies. It's just an energetic, happy picture about macaws and how Blu gets renewed confidence.
Is Rio a favorite of yours? What is a movie set in a foreign land that you love? Share in the comments below.
About Rachel Wagner

Twitter •