Without realizing 2016 is the 50th anniversary of the first airing of Star Trek, back in May my friend Tom and I started podcasting about each of the Star Trek films. I did this not having seen a single episode of the show. I had seen Galaxy Quest and the 2009 Star Trek reboot film but that is it. When I found out it was such an important year for Star Trek it felt all the more meaningful to understand this significant cultural phenomenon- to see what all the fuss is about you might say.
As we have watched and discussed all 14 films (including Galaxy Quest) there have been highs (Wrath of Khan) and lows (Final Frontier) but always an attempt to try something new and challenge viewers. Star Trek is honestly not like Star Wars at all. Star Wars is about an individual journey to face evil where Star Trek is about a crew exploring the world and facing obstacles as they do.
The most family friendly Star Trek film is the 4th entry called Star Trek IV: The Voyage Home. And even though I'm not as in love with it as many fans seem to be I enjoyed it and I think it is a good way to introduce your family to everything that Star Trek has to offer.
Star Trek IV: The Voyage Home is a clever premise without a real villain like Wrath of Khan has. A probe has landed around the Earth and it will destroy all around it if its signal is not responded to quickly. The problem is the signal is from a humpback whale, which have gone extinct in that day and age.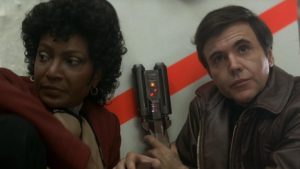 The crew uses a slingshot maneuver around the sun to make them go back in time to 1986 where they work to find whales to take back with them. They meet Dr Gillian Taylor played by Catherine Hicks who presides over the whales at a marine wildlife sanctuary in San Francisco. She and Captain Kirk go on a date and the rest of the crew work on finding plastic manufacturers to make an aquarium for the whales.
Honestly I was shocked when I saw this movie at how broad the humor was. It was so different than the serious tone of Wrath of Khan and Search for Spock. A scene at a hospital is particularly nutty and feels like something out of a Marx Brothers routine but it is enjoyable and I think kids will get a kick out of it.
There are also the fish out of water antics that the crew has trying to adjust to 1980s technology and morals. In one of the most famous scenes a punk rocker won't quiet his music on the train so Spock neck grabs him and knocks him out. Everyone on the train claps. It is these kinds of scenes that should warm up even the most anti-Star Trek viewer.
It is very silly but you get nice moments with the entire cast like when Scotty worries about Chekov getting the medical treatment he needs or when Sulu, McCoy and Scotty all try to win over the plastic factory owner with their slick ways.
If there is a weakness the romance is kind of lame and it feels very lightweight for Star Trek but it is also a nice breath of fresh air for a series that can take itself very seriously. I think the average family will have a lot of fun watching it together.
I don't think that every family needs to watch all 14 Star Trek films like I have done but given the 50th Birthday I would recommend watching some of the good ones. There are about 9 that I think are worth watching including Star Trek VI: The Voyage Home. It is funny, charming and an enjoyable watch for the entire family.
About Rachel Wagner

Twitter •