There are some times when I wish I could force everyone to see certain movies. For reasons that don't make any sense great films often get skipped when weak films like Smurfs make millions. As a film fan it can be very frustrating. Well, one film I would force you to see if I could is the new masterpiece from Laika Animation Studios, Kubo and the Two Strings.
This stunning stop motion film tells the story of a little Japanese boy who has a special power of storytelling. He can make origami paper come alive to tell his stories. There is only one problem he can never figure out what the ending are to  his tales. His mother is a sickly woman who seems to be getting some kind of Alzheimers disease and she is very dependent upon Kubo for her survival.
She tells Kubo to never go out at night; however, one day he ends up out late and there are spirits who are calling to him. This starts him on an adventure with a monkey (Charlize Theron) and a beetle (Matthew McConaughey).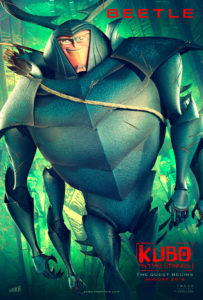 Kubo is looking for his father's armor which will help protect him from the evil spirits and save his family, but there are forces that want to stop him from gaining more powers. One thing I liked about the story of Kubo and the Two Strings is it didn't have a classic narrative with a treasure at the end. Even though the armor is the goal it isn't talked about that much and we don't have a clear path on how he is going to get there. It's not like Dorothy in Wizard of Oz who knows she needs to get the broom from the witch to get home. Everything here is more vague which keeps the viewer guessing and continually surprised.
There is also great heart to the story. I loved the character of Kubo because he was so sincere and earnest. He is blind in one eye but he is willing to make some jokes about his condition.  He is serious when he needs to be but I felt such love in his eye and from his smile. There was just something about his character that made me root for him. I wanted him to be happy very badly.
The dialogue is also very well done- particularly between monkey and beetle. They are sarcastic and sassy towards each other and Kubo. This helps keep things from getting too dark and sad.
Speaking of dark, the artistry is spectacular. There really is no other word for it. Simply stunning.  I sat in awe at how paper and water was used to give life and light to the journey.  The character movement is fluid and  you forget for long moments you are watching stop motion. It seems too good to be true, like it must be computer generated but at the end of the film they prove it is not. It is from the hands of master stop motion animators and this does feel like their masterpiece.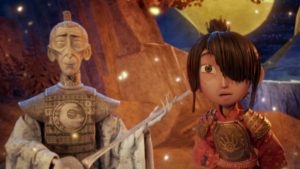 The music by Laika composer Dario Marianelli is perfect and it pays homage to the Japanese origins of the story without being too heavy handed. It works for the type of story being told.
Some kids might be a little bit scared by certain scenes particularly with the villain but there were lots of kids in my theater and they seemed fine. If your kids can watch the Wicked Witch of the West than they are probably okay with anything they will see here. Fortunately even the scary moments don't last that long and are quickly interrupted by peaceful, funny or other emotion.  It makes it a well-rounded, extremely engaging story.
I am still debating with myself whether I like Kubo or Zootopia better. They both have earnest likable protagonists and are both extremely creative. I will have to give it some more thought but right now I would give Kubo the slight edge.
The sad part is only a 1/10th of the people who saw Zootopia will see Kubo and the Two Strings. It's a real shame because I constantly hear people complain about all the sequels, prequels and remakes. Yet, here is an original work of art and nobody is going to see it.  I hope I am wrong and it does well but early estimates aren't great.
I couldn't encourage you with more vigor to see Kubo and the Two Strings.  It is a truly stunning animated film that will entertain the entire family. It's one you will want to get on blu-ray and in a very weak summer it is probably the best movie I have seen.
Overall Grade- A+
About Rachel Wagner

Twitter •