I have always loved brain teasers. You know, the riddle sort of challenges that help stretch your mind and require an increase in the number of neurons. Brain cells notwithstanding, I enjoy the challenge. But admittedly, if I can't figure it out, I am able to seek help or just read the answer.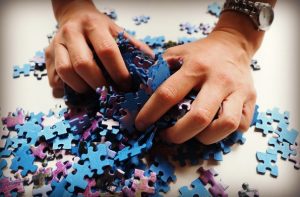 Sounds weird? Not so—think of the millions that put their craniums to the test with Suduko, crosswords, chess, or backgammon. Testing the mind is reported to have positive health effects as well.
I also take this philosophy to the office every day. If my wife and children knew how much fun I was having from sunup to sundown at work, they would probably faint. I solve problems all day. People throw brain teasers in front of me and pay me to figure out the answer. Well, not exactly, but pretty close. They are technical problems usually, and my task is to discover the solution and provide an answer. Can you believe that? I get paid to play games all day.
Now, before you dismiss my profession and quit reading this article because you can't support someone—anyone—that plays games all day, I venture to guess that you are doing exactly the same thing in principle. Whether you are a surgeon, dentist, lawyer, teacher, parent, or politician, you face obstacles every day, and people expect you to provide solutions and answers to those problems. I have learned that we are all a lot more alike than first thought—all of us.
What is amazing to me is the fact that a lot of us do not realize that we share these challenges. Many of us spend our time, effort, and money trying to make it difficult for everyone else. Before you resolve that might be true for others, but it certainly does not apply to you, think when was the last time you squeezed in line ahead of others, looked longingly at the neighbor's new car, or tried to measure up with everyone else. Envy, spite, and jealousy invade our lives at the most unusual times, just when things seem to be going so well.
So what do we do about this tendency? With the risk of sounding trite, maybe we can look at how we deal with a problem when we are playing games. We look to others for support; we google it; or we go to the answer book for the solution. The surprising thing that I have come to realize is that the answer book is always the gospel of Jesus Christ. It's how we treat people, how we face challenges, where we go for help, and why we do the things that we do. And gratefully, we don't have to face the obstacles alone.
We are promised that in the last days, we will be taught from the mouth of babes and experience the fulfillment of unimagined wonders. I think we are seeing that happen right now all around us.
And it shall come to pass in the last days, saith God, I will pour out of my Spirit upon all flesh: and your sons and your daughters shall prophesy, and your young men shall see visions, and your old men shall dream dreams. (Acts 2:17)
In the Primary song "I Love to See the Temple," we learn that we should prepare ourselves when we are young to covenant with and obey Heavenly Father. As a result, we receive blessings immediately and throughout eternity. I feel that's pretty good guidance. Let's learn by taking a page from our young people. Their faith, examples, capacity, and service is inspiring.
Partaking of the sacrament gives us an opportunity to recommit to the Savior and promise to be his disciples today. This builds our tapestry of faith in Him and helps edify us. As Robert D. Hales explained, "Disciples live so that the characteristics of Christ are woven into the fiber of their beings as into a spiritual tapestry." Indeed, there is strong importance of creating a strong spiritual tapestry made of a variety of Christ-like characteristics. Weaving our tapestry to become like Him helps us to stand strong in the last days.
And moreover, I would desire that ye should consider on the blessed and happy state of those that keep the commandments of God. For behold, they are blessed in all things, both temporal and spiritual; and if they hold out faithful to the end they are received into heaven, that thereby they may dwell with God in a state of never-ending happiness. O remember, remember that these things are true; for the Lord God hath spoken it. (Mosiah 2:41)
As we keep the commandments and do the things that we are asked to do, we build a beautiful tapestry.
Like many of you, my family attended the Ogden Temple rededication months ago now. The original dedication of that temple occurred 46 years ago, making it the 14th operating temple. I was just eight years old back in those days, and living at the time in the suburb of Holladay in Salt Lake City. Since that time, dozens of temples all around the world have been erected and dedicated to the Lord, and now operate daily.
"The temple is designated as a holy place, a site of beauty, peace, and purpose, worthy of God's presence. As such, people who enter the temple are asked to be pure in heart and spiritually prepared for this sacred venue. That does not mean that those who attend the temple are perfect. Rather, they are striving to keep God's commandments and the promises they made at baptism. Going to the temple is a demonstration of personal faith and a deep, ongoing commitment to God's plan." – Mormon.org, "What are temples?"
Perhaps we can view the temple similarly to how we regard the sacrament. Both are guideposts that enable us to consistently recommit to the Savior and live our lives in accordance with his teachings, and as a result, we are blessed.
We are all called to be disciples of the Savior. As we keep our baptismal and temple covenants, we receive guidance and direction to overcome obstacles every day and provide solutions to life's many challenges. I have learned that we can count on the Lord—all of us.

Many have faced formidable challenges during their lifetimes, whether in Nauvoo, Jerusalem, Carthage, (name your city). And though we have been required to go ahead in faith, without knowing the end thereof, we can consistently face our challenges with courage.
Though our obstacles don't begin to approach the magnitude of what occurred in Gethsemane and Golgotha, the lesson we learn from our trials and others' is that we will all be called to face obstacles. As we follow the example of Jesus Christ, in the midst of hardship, our lives are enriched with wisdom, blessings, and insight that clearly show the way.
18 If the world hate you, ye know that it hated me before it hated you.

19 If ye were of the world, the world would love his own: but because ye are not of the world, but I have chosen you out of the world, therefore the world hateth you.

20 Remember the word that I said unto you, The servant is not greater than his lord. If they have persecuted me, they will also persecute you; if they have kept my saying, they will keep yours also. (John 15:18-20)
Nope. I don't know all the answers, but I know where to find them — just like with my beloved brain teasers. And even when times are tough and life foreboding, we still have many blessings that give us strength. When we face hardship, we can defer to the things we know, the good we enjoy, and life's abundant blessings just like the beautiful words of a favorite scripture:
And we know that all things work together for good to them that love God, to them who are the called according to his purpose.  (Romans 8:28)
As we dedicate ourselves to God, He does not and will not leave us comfortless. When we follow and put our trust in Him, all of our challenges are surmountable, and they too have purpose.
He asks us to believe in and put our trust in him.
I can do that.
About Walter Penning
In 1989, Walter Penning formed a consultancy based in Salt Lake City and empowered his clients by streamlining processes and building a loyal, lifetime customer base with great customer service. His true passion is found in his family. He says the best decision he ever made was to marry his sweetheart and have children. The wonderful family she has given him and her constant love, support, and patience amid life's challenges is his panacea.
Twitter •