School is hard. Difficult subjects, challenging academia, and examinations or pop quizzes that beset even the best of us. Nobody just breezes through all this, and that is intentional. Getting an education is just plain tough. For me, it really helps having advocates cheering us on in the background.
Many of these supporters don't even realize they function in this role, but their indispensable influence for good will long be remembered. Just like our veterans. Who can put a price on the cost of freedom or measure the value of liberty?
I have always had great cheerleaders throughout my life. My family primarily, but there are many others: teachers, friends, acquaintances, members of our local congregation, and many others.
Among these mentors for me was Elder Jeffrey Holland. At the time, it was President Holland, as he was presiding over BYU. I affectionately remember him and his wife, Patricia, regularly encouraging us students. And he is still mentoring, building, and inspiring students today, just as he did often so many years ago. He recently spoke to graduates of BYU and shared many important truths.
"I believe you to be the very best, and I am counting on you to be consumed with conviction. …. as all of us surely will on another kind of graduation day yet ahead."
"This is the church of happy endings."
"All occasions invite divine mercy. And in heaven, it's always harvest time."
"Be secure and safe today and always in the victory of the kingdom of God over the troubles and ills of mortality."
"I am more certain of that victory than I am of any other thing I have ever learned in college or out," declared Elder Holland, just as he did for us when he was President Holland so many years ago.
The last two minutes of this address transport me back to my college days when my confidence wasn't so sure and my perspective of the future did not have the benefit of hindsight.
As I listen to his comments over and over again, I feel like standing and applauding.
These are his words but my sentiments.
You can heed his message as well when you need an advocate and someone cheering you on in life.
We can all use this kind of support. None of us is exempt from the efforts of the adversary. His influence extends far and wide in our world today, but we needn't be subject to the wiles of this realm.
Jesus said, "In the world ye shall have tribulation, but be of good cheer; I have overcome the world" (John 16:33). That sounds great, but what does 'overcome the world' even mean?
When I was young, about once a year, we were able to attend the temple or go to a youth conference where we could hear inspiring speakers share gospel messages that motivated and lifted us. Sometimes their talks were funny and entertaining. They were always interesting, and we were better, stronger people because they taught important truths. Many of these people became evangelists of the message of Jesus Christ. Their role as advocates of the gospel was an indispensable influence for good in our lives. We continue to remember and are strengthened by them.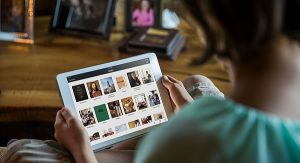 With today's technology, we can regularly have great cheerleaders throughout our lives. With music, song, and sermon, we can be edified not just once a year, but daily by their shared messages, testimonies, and faith.
My circle of influence has grown considerably because of these media. My family and friends now include dozens of advocates who testify of the truths of the restored gospel and witness of Jesus Christ. Living oracles of God are concerned for my welfare and yours. Teachers are evermore prophets and apostles, in addition to members of multiple congregations, and now include many others.
Mentors for us today consist of leaders, speakers, websites, videos, programs, performances, and curricula never before available in this quantity, quality, or magnitude. President Russell M. Nelson and Sister Wendy W. Nelson recently spoke to the youth worldwide, giving us all the "singular" opportunity to receive counsel directly from a prophet of God in a worldwide devotional for youth.
He encouraged us to enlist in the Lord's Youth Battalion to help gather Israel and enumerated the following guidelines:
Seven-day social media fast
Weekly sacrifice of time to the Lord
Keep on the covenant path
Pray daily for all to receive blessings of the gospel
Stand out. Be different. Be a light.
Many face-to-face presentations with world famous musicians, speakers, and advocates mentor, build, and inspire us today, just as was prophesied in scripture so many years ago. Those heroes today, young people, are you — but you are not left to your own devices. He prepared the way and offers many helps.
According to Elder Ronald A. Rasband, by divine assignment, the Holy Ghost inspires, testifies, teaches, and prompts us to walk in the light of the Lord. The Prophet Joseph Smith taught that if you will listen to the first promptings, you will get it right nine times out of ten.
"We must be confident in our first promptings. Sometimes we rationalize; we wonder if we are feeling a spiritual impression or if it is just our own thoughts. When we begin to second-guess, even third-guess, our feelings—and we all have—we are dismissing the Spirit; we are questioning divine counsel. The Prophet Joseph Smith taught that if you will listen to the first promptings, you will get it right nine times out of ten." – Ronald A. Rasband, "Let the Holy Spirit Guide," April 2017
I love that, and I've put his challenge to the test. His claim is working. Rather than question, we can listen and follow. Try it for yourself. As the Lord said, "Prove me herewith."
39 For behold, this is my work and my glory—to bring to pass the immortality and eternal life of man. – Moses 1:39
The Lord Jesus Christ wields the title of Advocate. He is our advocate with the Father, and He pleads our case with the Supreme Creator of heaven and earth.
Remember, nobody just breezes through the tests of life, and that is intentional. But with Jesus Christ, we can and will be victorious. In Him, our success is assured.
I read of a wonderful promise today. I thought you would also enjoy reading and remembering it. We can have confidence and security even in the midst of challenges.
41 Fear not, little children, for you are mine, and I have overcome the world, and you are of them that my Father hath driven me;

42 And none of them that my Father hath given me shall be lost.

43 And the Father and I are one. I am in the Father and the Father in me; and inasmuch as ye have received me, ye are in me and I in you.
The great plan of happiness will be fulfilled completely and fully.
President Eyring shared the following anecdote:
"Once I was worried that my family might not be together forever because of the choices of other people. The prophet told me, 'You are worrying about the wrong problem. You just live worthy of the celestial kingdom, and the family arrangements will be more wonderful than you can imagine.' That counsel gives me peace."  – "Hope for My Family," Ensign, June 2017
Life is hard. Difficult obstacles, challenges, and diversions or tests beset even the best of us. Nobody just breezes through all this, and that is intentional. Life can be just plain tough. For me, it really helps having advocates cheering us on in the background.
Thank heaven for that.
About Walter Penning
In 1989, Walter Penning formed a consultancy based in Salt Lake City and empowered his clients by streamlining processes and building a loyal, lifetime customer base with great customer service. His true passion is found in his family. He says the best decision he ever made was to marry his sweetheart and have children. The wonderful family she has given him and her constant love, support, and patience amid life's challenges is his panacea.
Twitter •