Deception has a devious way of cheating us even when we think we are safe. The reason that this vice is so misleading is because we don't even realize at the time that we are being taken (deceived).
But we can recover before it's too late.
Please allow me to share a personal example.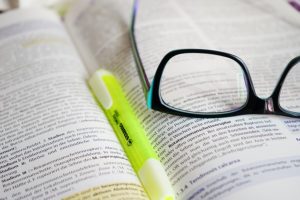 Like many people, I wear glasses. They make my life different than it would otherwise be. When I was young, spectacles helped a little, I guess, but they were not absolutely necessary, so I often got away without wearing them. They were a nuisance when I was playing ball or climbing on the monkey bars and were often damaged or lost. Then, in an effort to keep from breaking them, I often set them aside and ended up misplacing them instead. I took them for granted.
My mother kept a shoe box in the kitchen cupboard out of my reach full of all the remnants of my glasses: pairs I had grown out of, broken ones, and old pairs I no longer wore, I guess. It was amazing to look at the remains—the number of eyeglasses was shocking. There must have been dozens.
Yet during a number of years as I grew into adulthood, I chose not to wear glasses at all for various reasons. Perhaps they were inconvenient, or uncool, or costly—honestly, I don't really remember the exact reason why; I just quit wearing them. Others cannot read or function without their glasses, I realize. That dependence is beginning to happen to me now as well in my old age. When we go out to dinner and prepare to order, I frequently cannot read the menu without my glasses.
Sight is important, but vision is absolutely necessary, practical, and powerful—with or without eyesight.
The story about how I came to wear eyeglasses in my later years is instructive. I was going to college at the time and my wife encouraged me to get my eyes checked. Often college students have limited income and a strict budget, and such was our case—but after some time, I consented to an eye exam. I remember the strip mall where I had my appointment. I no longer recall the optometrist's name or anything significant from before or after the exam, but I will never forget the moment he placed the instrument called a phoropter in front of me, and I looked in.
Not only did the rows of letters on the lamp lit wall become crisp, focused, and distinguishable, but the colors became more vibrant than I realized, and the black lines were particularly distinct and solid. I thought, "Wow! I can't believe I have been missing all of this!" Clarity I did not even know existed was suddenly within my grasp. On occasion I would hold my glasses in front of me at arm's length just to compare the difference. The lines I was used to seeing were dark gray and blurred, but with my glasses, the lines were distinct, black, and sharp. All of a sudden, I could no longer go to movies without wearing my glasses because I realized I was missing so much. It was actually a different experience when I could really see.
Vision is necessary, but that is much different than sight. Eyesight refers to seeing things with one's eyes, but vision is more than eyesight—it is much more significant because it also includes knowledge and realization. It is comprehension, understanding, and wisdom. When we see things but comprehend less than what is intended or needed, eyesight becomes much different than vision.
Come unto Him and be made whole before it's too late.
One stormy night on the Sea of Galilee, Jesus Christ appeared to His disciples by walking on the water to get to the boat. The wind started to blow, and the waves were high and ominous. As a stalwart disciple of Christ, Peter sought the Savior and walked on the water for a moment. Then his focus turned on the surge around him, and Peter feared and began to sink. Jesus recovered him, however, and lifted him up. From that experience and others, Christ prepared Peter to become a leader.
"But wasn't it Peter who denied Christ three times?" Yes. That is true, and perhaps that is the most beautiful part of Peter's story. Despite his shortcomings, despite his weakness, Peter recognized his mistake and from then on stood up for Christ and witnessed of Him. He rose to greater power and significance, and became an influential leader. Grace upon grace, he learned from the Master and was eventually crucified because he would not deny his witness of Jesus Christ.
Peter learned figuratively and literally that if he cast in his net as the Savior directed, he would gather a great multitude of fishes. Terry B. Ball, a professor of ancient scripture at Brigham Young University, taught:
"He learned that if he stepped forward with faith when the Savior bid him come, that he too could walk on water. And he learned that if he passed the few loaves and fishes to the great multitude, as futile and as absurd as that may have seemed, that if he followed the Savior's directions in doing so, the miracle of multiplication would take place right under his very hands" ("What We Can Learn from Peter's Witness of Christ").
Peter changed his life before it was too late.
When our faith wavers and fear takes control, we can be tricked into believing that we can't do this, that we have already failed and are not worth the trouble. Have you ever felt these emotions? Maybe you feel discouraged, fearful, or powerless to change your circumstances right now.
I believe that is the very reason that Jesus Christ taught the principle, "Take my yoke upon you, and learn of me." He is saying that He and I (and you and He) can do this together. We are not alone. With Him, all things are possible in this life and the next, and the vision He can give us exceeds our current circumstances and opens a world of opportunity that moments earlier was not within our grasp. The vision He can give us includes hope, happiness, and joy beyond our fondest comprehension.
When we see the difference Christ's way can make in our lives and those of our loved ones that matter most, the comparison is startling. One may be inclined to exclaim, "Wow. I can't believe I have been missing all of this or that my possibilities are so far beyond what I ever imagined." Just as when I received my glasses, clarity we did not even know was available suddenly becomes more than within our grasp. It becomes part of our lives today and our futures tomorrow.
That is the beauty of the Atonement of Jesus Christ—He willingly carries these burdens for me and you.
So when is it too late?
My opinion is that it is only too late when we stop trying. When we lose hope and attempt to face life's challenges on our own, we will likely find life more difficult than we had anticipated. But it is not too late and help is still imminent. Relief and hope are on their way for those that endure to the end.
28 Come unto me, all ye that labour and are heavy laden, and I will give you rest.

29 Take my yoke upon you, and learn of me; for I am meek and lowly in heart: and ye shall find rest unto your souls.

30 For my yoke is easy, and my burden is light.
If we trust in Jesus Christ, it is never too late.
About Walter Penning
In 1989, Walter Penning formed a consultancy based in Salt Lake City and empowered his clients by streamlining processes and building a loyal, lifetime customer base with great customer service. His true passion is found in his family. He says the best decision he ever made was to marry his sweetheart and have children. The wonderful family she has given him and her constant love, support, and patience amid life's challenges is his panacea.
Twitter •