When the Latter-day Saints experienced intense persecution and violence in Missouri, the Lord called the Saints in Kirtland, Ohio, to join Zion's Camp to redeem Zion. Those hearing the call to join recognized the imminent danger.
Heber C. Kimball wrote:
"We started on the 5th of May (1834), and truly this was a solemn morning to me. I took leave of my wife and children and friends, not knowing whether I would see them again in the flesh, as myself and brethren were threatened both in that country and in Missouri by enemies, that they would destroy us and exterminate us from the land."
The Prophet Joseph Smith "promised the brethren that if they all would live as they should, before the Lord, keeping his commandments…they should all safely return."
Most of the Saints in Kirtland were in the throes of poverty and persecution themselves. The invitation to redeem Zion meant that some breadwinners left their families destitute while they followed the prophet to Missouri.
205 men, 10 women, and 7 children joined the 900 miles, 45-day march through heat, humidity, food and water privation, and threatened violence.
I really tried to understand their motivations to join Zion's Camp, which probably include a lot of reasons I haven't considered. I'm sure some simply followed the prophet because he'd received a commandment from the Lord. Others saw the plight of family, friends, and strangers and wanted to help. Perhaps others felt a special call to establish and redeem Zion. Perhaps still others wanted to exact revenge on those who had persecuted them. Finally it seemed like the Lord provided an outlet outside of "Love your enemies, bless them that curse you, do good to them that hate you, and pray for them which despitefully use you, and persecute you."
The Lord requested 500 men to join this cause of Zion. However, only 205 men, aged 16-79, signed up to go. Regardless of their motivations, these courageous souls showed up.
Joseph recorded:
Notwithstanding our enemies were continually breathing threats of violence, we did not fear, neither did we hesitate to prosecute our journey, for God was with us, and His angels went before us, and the faith of our little band was unwavering. We know that angels were our companions, for we saw them. (History of the Church, 2:73.)
Then the Lord said, after marching all that way—900 miles—in sacrifice,
Therefore, in consequence of the transgressions of my people, it is expedient in me that mine elders should wait for a little season for the redemption of Zion—

That they themselves may be prepared, and that my people may be taught more perfectly, and have experience, and know more perfectly concerning their duty, and the things which I require at their hands.

And this cannot be brought to pass until mine elders are endowed with power from on high.

For behold, I have prepared a great endowment and blessing to be poured out upon them, inasmuch as they are faithful and continue in humility before me.

Therefore it is expedient in me that mine elders should wait for a little season, for the redemption of Zion.

For behold, I do not require at their hands to fight the battles of Zion; for, as I said in a former commandment, even so will I fulfil—I will fight your battles.
Wait.  It is expedient to wait. I do not require [them] to fight the battles of Zion. Wait.
The Lord showed how He would fight their battles through a storm that raged while they camped at Fishing River. A mob threatened the camp and promised all of them would die by that evening.
The attack was prevented when a fierce storm swept the area and the river quickly rose more than 30 feet, turning the mob away. Joseph declared, "God is in this storm."
What was the Point of Zion's Camp?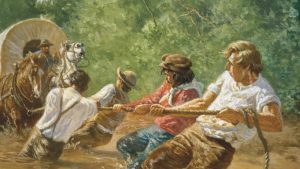 The Lord told Joseph, "I have heard their prayers, and will accept their offering; and it is expedient in me that they should be brought thus far for a trial of their faith."
The Lord tried their faith and their hearts. And in their trial, He taught them about unified effort, consecration, and prophetic revelation.
Wilford Woodruff said:
We were young men, and were called upon in that early day to go up and redeem Zion, and what we had to do we had to do by faith. . . . We gained an experience that we never could have gained in any other way. We had the privilege of beholding the face of the prophet, and we had the privilege of traveling a thousand miles with him, and seeing the workings of the spirit of God with him, and the revelations of Jesus Christ unto him and the fulfillment of those revelations. . . . Had I not gone up with Zion's Camp I should not have been here to-day [Salt Lake City, December 1869], and I presume that would have been the case with many others in this Territory. By going there we were thrust into the vineyard to preach the gospel, and the Lord accepted our labors. And in all our labors and persecutions, with our lives often at stake, we have had to work and live by faith. (Deseret News, Dec. 22, 1869, 543.)
The Call to Redeem Zion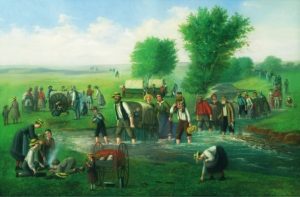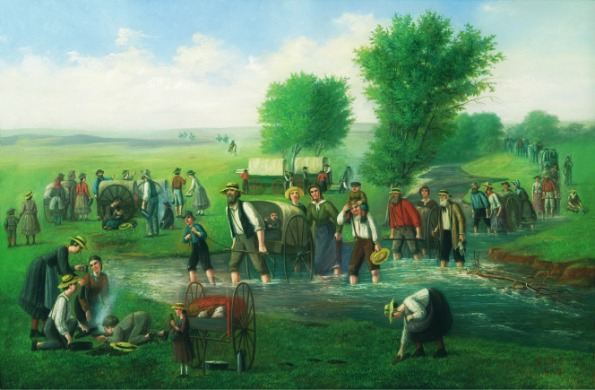 Zion remains unredeemed. Are we still so unprepared and ready to take up the Lord's cause?
A decade ago, Elder D. Todd Christopherson taught us how to become a Zion people.
Zion is Zion because of the character, attributes, and faithfulness of her citizens. Remember, "the Lord called his people Zion, because they were of one heart and one mind, and dwelt in righteousness; and there was no poor among them" (Moses 7:18). If we would establish Zion in our homes, branches, wards, and stakes, we must rise to this standard. It will be necessary (1) to become unified in one heart and one mind; (2) to become, individually and collectively, a holy people; and (3) to care for the poor and needy with such effectiveness that we eliminate poverty among us. We cannot wait until Zion comes for these things to happen—Zion will come only as they happen.
Still, the Lord waits for a collective people ready to build His city. Still, He loves and guides us while refining our hearts and trying our faith.
Elder Christopherson concluded his remarks by challenged us to individually and collectively seek Zion.
The Prophet Joseph Smith said, "We ought to have the building up of Zion as our greatest object" (Teachings: Joseph Smith, 186). In our families and in our stakes and districts, let us seek to build up Zion through unity, godliness, and charity, preparing for that great day when Zion, the New Jerusalem, will arise. In the words of our hymn:

Israel, Israel, God is calling,

Calling thee from lands of woe.

Babylon the great is falling;

God shall all her tow'rs o'erthrow. …

Come to Zion, come to Zion,

And within her walls rejoice. …

Come to Zion, come to Zion,

For your coming Lord is nigh.

("Israel, Israel, God Is Calling," Hymns, no. 7)
Modern Motivations
What's our motivation for redeeming (or not redeeming) Zion?
… We ought to have the building up of Zion as our greatest object. … The time is soon coming, when no man will have any peace but in Zion and her stakes.
We can compare our personal motivations with this subsequent warning from Joseph Smith.
If Zion will not purify herself, so as to be approved of in all things, in His sight, He will seek another people; for His work will go on until Israel is gathered, and they who will not hear His voice, must expect to feel His wrath. Let me say unto you, seek to purify yourselves, and also all the inhabitants of Zion, lest the Lord's anger be kindled to fierceness. Repent, repent, is the voice of God to Zion; and strange as it may appear, yet it is true, mankind will persist in self-justification until all their iniquity is exposed, and their character past being redeemed, and that which is treasured up in their hearts be exposed to the gaze of mankind. I say to you (and what I say to you I say to all,) hear the warning voice of God, lest Zion fall, and the Lord swear in His wrath the inhabitants of Zion shall not enter into His rest.
Where do we stand in becoming a Zion people?
About Delisa Hargrove
I am a member of The Church of Jesus Christ of Latter-day Saints. I have moved 64 times and have not tired of experiencing this beautiful earth! I love the people, languages, histories/anthropologies, & especially religious cultures of the world. My life long passion is the study & searching out of religious symbolism, specifically related to ancient & modern temples. My husband Anthony and I love our bulldog Stig, adventures, traveling, movies, motorcycling, and time with friends and family.