After years of letting others tell me how I should be, I've had enough. My whole life I have been considered "plus size". I'm tall. Even on my wedding day, when I was an extra 15 pounds lighter, I was still 5' 10" and wore a size 12. That was plus size, which in the US starts at a 12/14. And believe me, I've only gotten bigger as I've gotten older. I used to feel so frustrated about that. But we are all priceless daughters of God, and we don't have to fit any mold to matter. So I've decided it's time to own my size and tell the fashion industry to stop shaming women. We deserve to break free so we can better feel the love of the Lord.
It's an Industry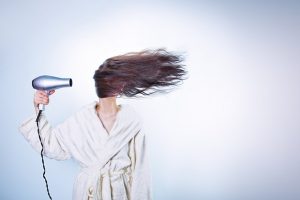 The beauty industry shames us so we will buy their creams, clothing, and shape-wear. They shame us into thinking that their ideas of fashion are the only ones that matter. I have a bachelor's degree in advertising and I can tell you that there is a ton of psychology that goes into their tactics. And it is all VERY deliberate. They don't care about the damage caused; they are looking for a profit.
It was not as big a deal that the fashion industry tried to shame us when their only way of reaching us was in TV commercials (which were always bathroom break time), or magazine ads (who reads them anyway?). But now there is Twitter, Instagram, Facebook, and a thousand other apps and websites all yelling at you that you are not enough unless you wear their brand and look how they say you should.
Getting away from them is a lot harder now that their messages are literally tied to our wrists or tucked into our pockets. Even our email inboxes are full of their messages. It's become an epidemic of negativity. And it's time to stop! We don't have to let them make us feel less in any way. We are each as we were designed to be, to fill our individual missions here on this earth. And we can take a stand.
Listening to the Prophet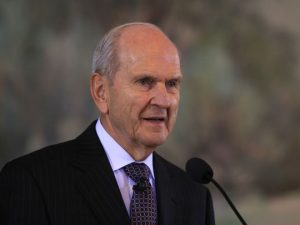 When President Nelson challenged the youth, and then the women of the Church of Jesus Christ of Latter-day Saints to have a media fast, I was on board. I had wanted to feel closer to the Lord for some time. The fast accomplished that and more for me. It opened my eyes to the messages around me — messages I had been unaware had been effecting my spiritual senses.
No longer was Oprah a voice of inspiration for me. I started seeing her as a platform to sell things. Her "favorite things" list was no longer interesting because the price tags attached were ridiculous. I even started to rethink my approach to fashion and ask myself if I was really focusing on what mattered most. I realized that I had become complacent.
My Weakness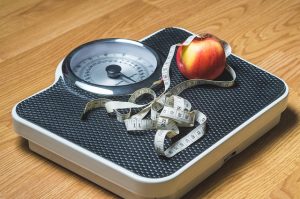 As a teen, I was so embarrassed about my weight. I wanted to be thinner so badly that I would often skip meals and I obsessed over calories constantly. I don't think it ever got to eating disorder levels; I just saw it as a way to control things because I could barely fit into the largest sizes in my favorite stores. But food occupied far more of my conscience than it should have. That energy could have been focused on more spiritual matters.
I didn't give myself any mercy — and I never thought that being tall meant I had to have a greater gravitational force. At 14 I was already 5' 10", and there were very few things that I felt looked good on me and were in fashion. Somehow that became my fault, because it hadn't occurred to me that the beauty industry could be flawed.
Distorted View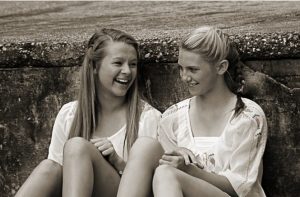 I look back now and I see a very slender girl. But at the time, the labels on my shirt told me I was a large and the stores always stocked very few larges. I worked in retail, so I was acutely aware that most of the racks were full of mediums and smalls. I got their subliminal message loud and clear — and I felt I needed to change myself to fit their image.
I started to wear shapewear every day. And if anyone felt them under my clothes, I told them it was a back brace or a medical device of some kind. I guess technically it was, because it was an aid for my insecurity. But there was no way I was telling anyone that. I would even sneak out to buy them because they were expensive.
My mom didn't even know I had them. I would save up my money and buy them when nobody I knew was around. And I did my own laundry, so it was a well-kept secret. But I see now that what I was doing wasn't healthy. Not really. I wasn't allowing myself to accept myself for who I was! I was relying on this elastic undergarment to make me feel like I was good enough.
Not Alone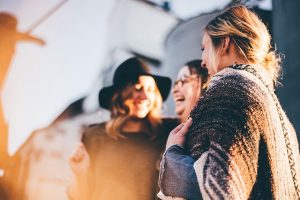 I'm sure that I am not the only one who feels the need to live up to an image that is literally impossible to achieve without artificial means. But somehow the media fast that President Nelson asked us to do helped open my eyes. So I stopped subscribing to the magazines that kept telling me I wasn't enough and I read my scriptures more often now. The peace of feeling pretty without comparing myself to an impossible ideal is so wonderful.
The crazy thing is I look back on my high school and college pictures, to the time I felt fattest, and realize I was underweight or right on target. The feelings of being fat were all in my head. And as I try to walk closer to my Savior, I can more easily raise my thoughts up to His level. It is easier to feel His love around me and see myself as He sees me.
Shaking Off Satan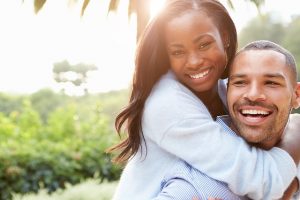 I also see those around me in a kinder light and I find I have more patience for others. The damaging messages of the adversary are clearer to me. Those negative voices have been getting louder as the Lord hastens His work, so I know that these messages will only increase in intensity and volume. I feel a greater sense of urgency to get ready to receive the Savior as I witness the changes in our world.
I challenge you to look at yourself as the Savior does. He looks not on the outward appearance because He looks at our hearts. He loves us and sees us with eternal eyes that see who we were before we came here, and who we will one day be. He doesn't compare us to anyone else. So we have nothing to be ashamed of when we approach Him! He won't ever stop loving us.
Choose to Be Free — You Got This!
So if you are like me and have an embarrassing secret that has become an emotional crutch, know that the Lord is your ally. He wants you to have peace, to know your real value, and to raise to your potential. Read your patriarchal blessing often. Ask Him how to get where you want to be and how to see yourself as He sees you. He will help you.
Don't be afraid to ask for earthly help either. Sometimes the way we talk to ourselves gets so loud we need guidance on how to change the message. It will take time, but don't give up. You have greater value than you know, and the battle is worth it. I know from personal experience, and I am so glad I took the time to teach myself to be kinder to myself. My family and my child have benefited from the 'new and improved' me. Seek to know your "why" for trying to change and it will give you strength. (Go team!) Good luck dear reader, you've so got this.
About Abby Christianson
Abby is capable and caring. She is learning more about Autism and parenthood every day. Having completed training to be an RBT (Registered Behavior Technician) for ABA therapy she is beginning to understand her son. And even though she is the first to admit she makes a lot of mistakes, she is so grateful to be on this journey. She comes from a family with many autistic members. She invites us to join her, as she shares her adventures. She wishes to emphasize that Autism is a difference not a defect. If you or a family member have autism, Abby wants you to know that the challenges can be overcome, and there are blessings in autism. You or your loved one are not sick or broken. Together we will teach the world this new language.
Twitter •