In today's society, there's a phrase that is becoming more and more apparent: "Sex sells."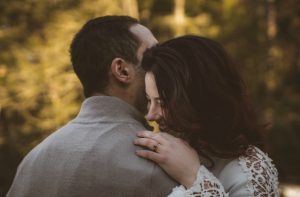 Sexual intimacy, something designed to be a bonding, sacred, and personal experience between a married couple (hence the very term "intimacy"), has become commonplace and impersonal. It's near-impossible to turn on a television program without hearing crass jokes, and today's music charts overflow with songs glorifying lustful sex. Magazines at the checkout line boast headlines about who has slept with whom, and social media is full to the brim with memes and other images that mock the sanctity of sexual intimacy.
In a world so filled with voices that shout, "Your body is yours and you can do what you want with it!" "You can sleep with whomever you want WHENEVER you want!" or even, "Satisfying your own sexual needs is healthy and necessary!" the topic of sex can be confusing, to say the least. Thankfully, as Latter-day Saints, we have clear, straightforward direction on how to approach this topic.
Marital Intimacy is Sacred
Sex within marriage is so special and beautiful — it is a way of giving oneself completely to a spouse. Intimacy wasn't meant to be purely physical like so many people seem to believe; it is meant to draw a married couple closer together and to increase their love and devotion to one another (and only one another). When sex is had lovingly between a married couple, there is no comparison to others, no focus on "my wants"; rather, there is significant joy in physical and spiritual closeness coupled with a primary focus on your spouse's joy and fulfillment.
Elder Jeffrey R. Holland gave an amazing talk that discusses the sacredness and beauty of intimacy in marriage entitled "Of Souls, Symbols, and Sacraments." In it (and I highly recommend you read the entire thing!) he remarks:
"[May] I suggest that human intimacy, that sacred, physical union ordained of God for a married couple, deals with a symbol that demands special sanctity. Such an act of love between a man and a woman is—or certainly was ordained to be—a symbol of total union: union of their hearts, their hopes, their lives, their love, their family, their future, their everything. It is a symbol that we try to suggest in the temple with a word like seal. The Prophet Joseph Smith once said we perhaps ought to render such a sacred bond as "welding"—that those united in matrimony and eternal families are "welded" together, inseparable if you will, to withstand the temptations of the adversary and the afflictions of mortality. (See D&C 128:18.)

But such a total, virtually unbreakable union, such an unyielding commitment between a man and a woman, can only come with the proximity and permanence afforded in a marriage covenant, with the union of all that they possess—their very hearts and minds, all their days and all their dreams. They work together, they cry together, they enjoy Brahms and Beethoven and breakfast together, they sacrifice and save and live together for all the abundance that such a totally intimate life provides such a couple. And the external symbol of that union, the physical manifestation of what is a far deeper spiritual and metaphysical bonding, is the physical blending that is part of—indeed, a most beautiful and gratifying expression of—that larger, more complete union of eternal purpose and promise.

As delicate as it is to mention in such a ­setting, I nevertheless trust your maturity to understand that physiologically we are created as men and women to fit together in such a union. In this ultimate physical expression of one man and one woman they are as nearly and as literally "one" as two separate physical bodies can ever be.It is in that act of ultimate physical intimacy we most nearly fulfill the commandment of the Lord given to Adam and Eve, living symbols for all married couples, when he invited them to cleave unto one another only, and thus become "one flesh" (Genesis 2:24).

Obviously, such a commandment to these two, the first husband and wife of the human family, has unlimited implications—social, cultural, and religious as well as physical—but that is exactly my point. As all couples come to that moment of bonding in mortality, it is to be just such a complete union. That commandment cannot be fulfilled, and that symbolism of "one flesh" cannot be preserved, if we hastily and guiltily and surreptitiously share intimacy in a darkened corner of a darkened hour, then just as hastily and guiltily and surreptitiously retreat to our separate worlds—not to eat or live or cry or laugh together, not to do the laundry and the dishes and the homework, not to manage a budget and pay the bills and tend the children and plan together for the future. No, we cannot do that until we are truly one—united, bound, linked, tied, welded, sealed, married.

Can you see then the moral schizophrenia that comes from pretending we are one, sharing the physical symbols and physical intimacy of our union, but then fleeing, retreating, severing all such other aspects—and symbols—of what was meant to be a total obligation, only to unite again furtively some other night or, worse yet, furtively unite (and you can tell how cynically I use that word) with some other partner who is no more bound to us, no more one with us than the last was or than the one that will come next week or next month or next year or anytime before the binding commitments of marriage?

You must wait—you must wait until you can give everything, and you cannot give everything until you are at least legally and, for Latter-day Saint purposes, eternally pronounced as one. To give illicitly that which is not yours to give (remember—"you are not your own") and to give only part of that which cannot be followed with the gift of your whole heart and your whole life and your whole self is its own form of emotional Russian roulette. If you persist in sharing part without the whole, in pursuing satisfaction devoid of ­symbolism, in giving parts and pieces and inflamed fragments only, you run the terrible risk of such spiritual, psychic damage that you may undermine both your physical intimacy and your wholehearted devotion to a truer, later love. You may come to that moment of real love, of total union, only to discover to your horror that what you should have saved has been spent, and—mark my words—only God's grace can recover that piecemeal dissipation of your virtue. (Emphasis added.)
Marital intimacy is meant to bring us closer together, meant to unite us and strengthen our deep and abiding love for one another — which brings us to another point: the mechanics, so to speak, of making marital intimacy a pleasurable experience for both husband and wife.
Resources for Marital Intimacy
Because sex is such a bonding experience, it should be enjoyable for both spouses — and there are so many resources that help us to achieve such intimacy. Here are just a few:
And They Were Not Ashamed: I cannot say enough good things about this book! My husband and I actually bought this before we were married at the suggestion of a bishop, and I absolutely loved it. It discusses intimacy in a frank but respectful way and teaches its readers how to have enjoyable and meaningful sex that will draw spouses closer to one another. This book will help couples to understand that sexual intimacy within the bonds of marriage is an absolutely beautiful and sacred experience.
And It Was Very Good: A Latter-day Saint's Guide: I LOVE this book and have found it helpful even a few years into my marriage! This guide on marital intimacy was created by a set of parents (hence the pseudonym "Earthly Parents") for their children, and it is packed with wonderful suggestions, resources, and information about how to have sex that is both physically and spiritually bonding. Host of the "Ask a Mormon Sex Therapist" podcast, Jennifer Finlayson-Fife, PhD, LCPC, called this book a "practical, forthright guide to marital sexuality. And It Was Very Good offers important sex education and relationship guidance that many Latter-day Saint couples need." You can support the authors by purchasing the book on Amazon, or, if you're strapped for cash (hello, newlywed life!), the author has generously agreed to send readers a free PDF of the book. For the free PDF, send an email here.
Sexual Wholeness in Marriage: The product description of this book reads: "Sexuality can be one of the most perplexing and yet rewarding area of life for spiritually minded individuals. In this book the authors present a pathway to building positive sexual attitudes and a healthy sexual relationship with a spouse that can be enriching and fulfilling on the spiritual journey of this life. In addition, they address many of the common questions LDS individuals have about sex that may not have been adequately answered by existing sources, including:
How can couples manage their often very different levels of interest in sex?
What types of sexual behaviors are appropriate for married LDS couples?
How can couples keep their sexual relationship creative and enjoyable over decades of marriage?
What are the unique sexual needs of women and men in marriage?
How can couples be better prepared to start off their marriage on the right foot when they are sexually inexperienced?"
There are so many wonderful resources available for married (or soon-to-be married) couples regarding sexual intimacy, and we should take advantage of those! Although marital intimacy for the purpose of procreation is extremely important, that's not all it is for! It can and should be had regardless of that purpose.
Our Heavenly Father wants us to enjoy marital intimacy. It should be bonding, loving, and fun — but above all, it should be regarded with the dignity, sanctity, and sacredness it deserves.
About Amy Carpenter
Amy Carpenter is the site manager and editor for LDSBlogs.com. She served a full-time mission for The Church of Jesus Christ of Latter-day Saints in Denver, Colorado, where she learned to love mountains and despise snow. She has a passion for peanut butter, dancing badly, and most of all, the gospel.
Twitter •