Author's note: Just one week before our 25th wedding anniversary, this post is a tribute to my sweet husband and the events that brought us together. I've learned that when you want a miracle in your life, you need to shop at the right store!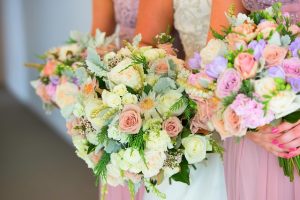 My first marriage was at the age of 17 and it lasted about three months. Two years later, I remarried the same person. This time, it lasted about nine years, and by then, I had two sons. A year later, I remarried. This marriage lasted about four years. Within the following year, I remarried again. A year later, we were sealed in the temple. This marriage lasted about eight years. Within another year, I again remarried. In due time, we were sealed in the temple after my previous sealing was cancelled. This marriage ended after nine years. At this point, after five failed marriages, I had to admit I wasn't very good at selecting a husband. I did learn a lot as a result of the merry-go-round of relationships. Many have described me as an eternal optimist in my persistence. (I joke that sometimes it requires an entire courtyard of gentry to prepare a queen!)
Regardless of the serial short marriages, I never considered myself to be a "quitter." Perhaps the most profound thing I learned was the undeniable importance of establishing a boundary beyond which I was unwilling to go. That boundary? I knew that no one had the right to kill my spirit — not even me. When I felt my heart's inner light barely flickering and about to be snuffed out, I knew it was time to move on.  
In retrospect, I now understand that I had persistent abandonment issues from years of being in foster homes away from parents and siblings. Consequently, it isn't too surprising that I didn't want to be alone. Since I believed it was important to be morally clean, I kept jumping quickly from one marriage to another. I never thought of myself as being an "at risk" person, and in those days, I hadn't even heard of PTSD.
I am reminded of a beautiful poem written by Carol Lynn Pearson in her book Goodbye, I Love You. Years later, she wrote a Facebook post about this poem:
"Please pass this thought along to someone at risk. Several years ago, a dear young friend of mine attempted suicide and gratefully was spared. I gave her a tiny poem I had written in a deep, dark place of my own—the second stanza two years after the first.

My young friend is now doing very well, and for a recent college project on suicide prevention, she created and sent to me an art project using the words of my little poem along with her drawing of a candle:

DRAMA IN TWO ACTS

I dim
I dim
I have no doubt
If someone blew
I would go out.

I did not.
I must be brighter
Than I thought.


—CLP
Thankfully, I had grown to the point where I was ready to stop the madness and petitioned Heavenly Father for His help. I still didn't want to be alone, but I realized (finally) that I was not qualified to make a suitable choice. I completely let go of any details of what I thought I wanted in a husband. I only wanted who Heavenly Father wanted for me. I've heard many times, "Heavenly Father is preparing someone just for you." I was completely ready to test that theory.
I spent weeks fervently praying, no idea what to expect — if anything. I was simply filled with the desire to do whatever Heavenly Father wanted me to do… Little did I know how quickly events begin moving into place once you "let go" and "let God." Heavenly Father apparently knew that I seriously needed divine intervention. Looking back, I can easily see how all the pieces fit together over the next few weeks — but at the time, I had no clue that the confusing, lonely, mind-scrambling, and painful life I had known was about to forever slip away.
In October of 1994, I lived just south of Portland, Oregon. A girlfriend I hadn't seen for decades was flying in from the Midwest to see me for a few days and I reminded her to be sure to bring her recommend because I wanted to go to the temple on Saturday morning.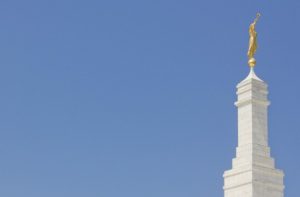 As we stepped into the endowment room, I felt strongly the Spirit communicating to me that the companion the Lord had chosen for me was in that room. The feeling was so pronounced; a tangible presence I can only describe as goosebumps. There were only about a half dozen men seated in the room, all but one of them clearly in their 70s or 80s. One man that looked to be in his 40s was sitting by himself just a couple of rows behind the row I was sitting in. I kept turning my head to look at him. He eventually noticed, so then I kept my eyes forward. I thought that I might see him in the celestial room, but he wasn't there. I started showing my friend the different artwork in the celestial room, and we climbed the stairs to the mezzanine. As we looked down on the room below, I felt the goosebumps again, and I turned around to look down the hall leading to the sealing rooms. The door at the end of the hall opened and there he was with another man. They entered into one of the sealing rooms and closed the door.  
My friend and I started walking down the hall past the sealing rooms and viewing the artwork on the walls. As we got to the door he had entered, the goosebumps started again. I stood there for a few moments just to make sure I wasn't imagining what I was feeling. There was no doubt in my mind that the Spirit was communicating with me. We turned and went to the dressing rooms, then out into the parking lot. I had a distinct feeling we were supposed to go back into the temple. I remembered I wanted to show my friend the unique baptistry, and we went back into the temple. There was a baptism session in progress, so we decided to get something to eat in the cafeteria near the baptistry.  
We got our food and were sitting along the far wall in the cafeteria. After a few minutes, I started feeling the goosebumps again. I looked up and scanned the room — and at the exit from the food line, there he was. He was coming around the end of the food service area with another gentleman. They sat at a table not far from ours. I could hear them talking. He mentioned where he lived and how many years he'd been a member. He had a deep, resonant voice that did not escape my notice.
When my friend and I finished our meal, we went to put our trays away. There were some friends seated at a table by the dishwashing area and we stopped and spoke to them for a moment. I looked over at his table and he was sitting alone, so I excused myself by saying, "There's a light over there I need to go check out."
As I approached his table, he looked up and had that "deer in the headlights" expression on his face. I introduced myself and said I wanted him to know I appreciated the spirit he brought to the temple. I had no way of knowing at that point whether he was single. I just knew the persistent goosebumps definitely grasped my attention. We spoke for just a few moments and then my friend and I left.
That evening, my sister, my friend, and I were having a great time doing "girl things." All the sudden, I said something about this feeling like a slumber party. Then I said, "I know what girls do at slumber parties! They call the boys!" I'd been a secretary for several years and I knew how to find information. So I called information in the town he mentioned he lived in. (I had his name from when I introduced myself — so what was a girl to do?) 
 I got the phone number and I asked if there was an address listed. There was and the operator gave it to me. I was equipped with the information I needed. I didn't really think about the fact that I had no way of knowing whether he was single or married; I just dialed the number and waited. I heard a younger voice say "Hello?" (It was definitely not his deep voice.) The next words out of my mouth were, "Is your mother there?" "No, my mom doesn't live here. She lives in town." "Is your Dad there?" "Sure."
The next voice I heard was the deep, resonant voice from the cafeteria. "Is this Brother Hoskins?" "Hoskins? No, this is Brother Hopkins." "Oh, I'm sorry. Please excuse the call." And I hung up.
All right!  Now I knew I had the right person and his son's mother didn't live there. I had his mailing address and I wasn't afraid to use it. I sat down and wrote him a note, telling him once again that I appreciated the spirit he brought to the temple. I also added that I didn't know if it was appropriate for me to extend my friendship, but if he was looking for a new friend, I would enjoy getting to know him better. 
I addressed the envelope and put on a stamp. The next morning, I dropped it into the mail. (I refrained from spritzing the envelop with perfume!)
I think it was a couple of weeks before I got a response. When it came, it was on a single sheet from a small note pad. Now, I don't know if I'm the only one that reads the last couple of pages of a novel first to see if I like the ending enough to read the whole story. I employed the same strategy with this note.
I started by reading the last sentence:  "Getting your note was an answer to my prayers."  
Part two coming soon!
Featured image: The Portland, Oregon Temple of The Church of Jesus Christ of Latter-day Saints via ChurchofJesusChrist.org.
About Sonja Hopkins
Sonja lives with her husband, Dale, on Anderson Island, Washington. She and her husband are Church Service Missionaries serving in the Addiction Recovery Program, focusing on pornography and sex addiction. She is also a certified life coach and teaches "Life Skills for Emotional Self-Mastery" in her stake twice a month. She does not teach you only to process something traumatic done to you in the past; rather, she helps you learn to feel it, heal it, and LET GO of whatever you still do to yourself and to others in order to cope with what was done to you in the past.
Twitter •