For us adults out there, as we grew up, I'm sure we all heard our parents tell us to be grateful for the small stuff in some way or another. It's something we all know we should do, because, as the lyrics to Joni Mitchell's "Big Yellow Taxi" say, "You don't know what you've got 'til it's gone."
Every time my wife goes through something that robs her of yet another basic human function, it reminds me to be grateful that I can still do that thing. In the following message, most of the details I will relate are things which have occurred in the last few years. Here are seven things for which, having watched my wife be deprived of, I have come to be more grateful for than I ever expected.
1. Two Legs That Work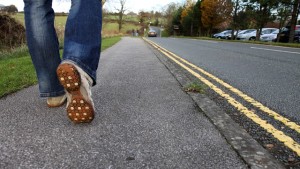 Lorraine hasn't always been deprived of this. She learned to walk when she was four because of many complications surrounding her birth in addition to physical abuse and neglect. Even still, she was able to walk with leg braces and crutches for most of her growing-up years. It was only when the pressure ulcers on her feet and legs began to show up on top of the lymphedema in 2010 that her ability to walk began to be severely (and slowly) impacted.
As of Fall 2017, my wife lost all ability to bear weight on her feet when her leg broke in — wait for it — the hospital. That's a story for another day, but ever since, I have been extra thankful that I can just stand up anytime I want to go anywhere I want. There are still limits on when and where I can go because of Lorraine's needs and how often I need to be around to help her, but you get the idea. At this point, at least until the Lord's promise to heal her completely is fulfilled, her legs are of no purpose to her except as a source of pain. I am beyond grateful that mine still work perfectly fine.
2. My Voice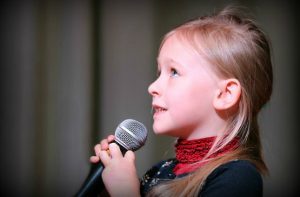 This is something else that has been taken from my wife multiple times. The most emotionally difficult part for her, I'm sure, is how much she loved to sing her whole life (and is really good at it). I mean, she was really good. In the last three years, doctors have had to put a breathing tube down her throat at least three times (though probably more), which also included a feeding tube so she can still get nutrients. Imagine the frustration of being awake, alert, and aware, but not being able to say a single word because the is no physical way for you to speak. You try to use your hands but you're so tired that all you can do is sit there… And if no one is looking in your direction and you need an itch scratched or you just want something simple like sunshine in the room, you have no way of getting anyone's attention. That very situation with Lorraine has made me so much more grateful for my voice and is one of the reasons I now use it to try and do as much good as I possibly can.
3. My Arms and Hands
In the last few months, Lorraine has become so weak and has lost enough muscle mass (according to a recent CT scan) that even when she is alert and awake, she has great difficulty moving her hands and arms. Lorraine used to play piano at a grade 10 level. She was really good and our shared love of piano music was one of the reasons (though a less important one) why we fell in love. I'm so grateful that I can still practice piano on a somewhat regular basis.
4. Hugs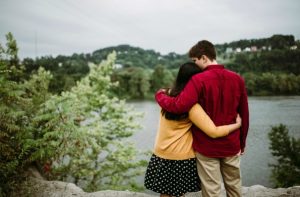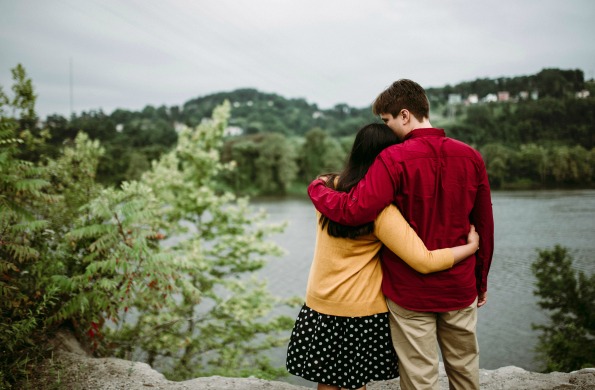 Speaking of my arms, this one is big for me. My top two love languages are words of affirmation and physical touch. We were always hugging and horsing around in my family growing up, so one of the biggest emotional challenges for me since Lorraine's health started declining is how little I get to be physically close to her. (Being physically close can be very painful and/or overwhelming for her.) It can be emotionally empty and lonely, so every hug I get these days from those who I can appropriately hug is, in every sense, more valuable to me than all the money and possession the world could ever offer.
5. Meaningful Conversation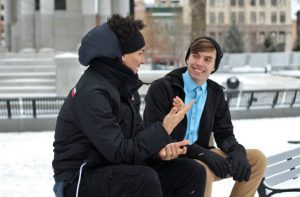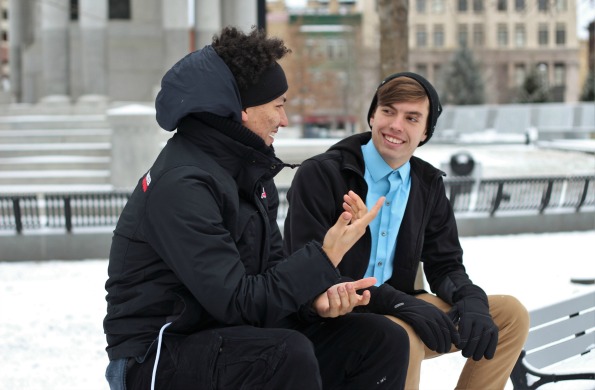 And I'm not just talking about discussing and rejoicing about the important things in life or venting to someone who is willing to listen. I'm talking about having the deep, meaningful conversations with people who really do see eye to eye with you on more subjects than anyone else and can empathize with you (or at least wants to) from more angles than anyone else.
Of course, no one has seen all the thousands of intricate details we've suffered through — and been blessed with! — like the two of us (and the same applies the other way around as well), but every moment of meaningful conversation with anyone who can empathize with even a few of the deeper things (bad or good) that the Lord has lead us through is, as the apostle Peter put it, "much more precious than of gold that perisheth." This is especially true for me since one of my love languages is words of affirmation.
6. The Ability to Open My Eyes Every Morning and Look Into the Eyes of Those I Love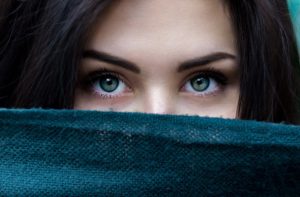 I've became much more thankful for this in the last week. Lorraine's lymphedema has gotten better and worse depending on what kind of treatments she has been on with her health. During her latest hospital visit, she had to go on dialysis more than once because of kidney infections. When they are doing the kind that is supposed to also remove fluid, her swelling goes way down — but every time her swelling with lymph has gone down, it always comes back either a touch worse or spreads to a new area of her body.
This last week it came back in her actual eyeballs and rendered her awake and aware (though unable to speak or eat) but stuck in a world of blackness where she could hear people and feel nurses' and doctors' hands on her when examining, doing scans/tests/etc, without even being able to see what was going on because it was too painful to open her eyes. August 31st
was the first time in probably three or four days that she could open her eyes for a split second and I was able to look into them. She has been completely in the dark.
7. People Who Understand and Can Empathize
Wifi has been the only connection I've really had with anyone outside of the hospital. No one at our apartment building has any clue what's going on with Lorraine, so when I told one lady in the elevator the other day that things were "a little tough" and she replied, "Oh, I totally understand what you're going through," I almost laughed. (Darn that mortal weakness of mine!) The thing is, I don't expect anyone to understand except God and I'm not upset when they don't, but I get frustrated when someone who hasn't the slightest actual clue in the multiverse what we're going through tries to tell me they understand.
Those who ask questions to try and understand better, pray for us, don't give unsolicited advice (or at least don't automatically expect us to follow it), and do things like bring nice snacks and little gifts on occasion and hang around and talk with an understanding heart (whether they actually understand our circumstances or not) are the people who mean more to me than they can possibly imagine. They are always like a balm of Gilead to my soul. They are the ones that help remind me why I keep trying every day.
To be honest, I do feel a bit selfish that it took this much for me to see the true value in things money can't buy, but now that I see it better than ever before, I don't plan on ever taking those not-so-small things for granted ever again. Those are really the biggest miracles in life.
About Paul Pulsipher
Paul served a mission in the then Canada Toronto West Mission and moved to Utah after living for ten years with his late wife, Lorraine, in Hamilton Ontario before her passing in 2019 and recently remarried in the Payson temple to his beloved Collette. He loves missionary work, piano, blogging (you can find his personal blog here!), deep spiritual conversations with friends, and hosting his podcast, Stepping Into Freedom. He can solve a 5x5x5 Rubik's cube, and puts a lot of time into gospel scholarship.