This is the seventh in an eight-part series about Ashley's health journey. Read part six here. 
Coming back onto the grid after my second full-length hospital stay was extremely intimidating. I felt like everyone was watching me and afraid I would break at any moment — or at least, those who knew where I was during that time. Everyone else was very inquisitive and confused by the simplicity of my answer to my whereabouts of the past little bit. My confinement to a small place was lifted. I got my cell phone back that I hadn't had in four days, and felt weird using it.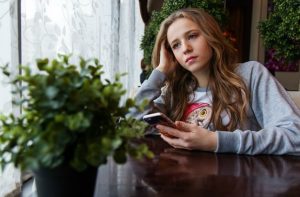 Disconnecting from my phone was really a great thing. It allowed for "less Wi-Fi and more Nephi." If you haven't taken a technology break recently, I recommend even just an hour or two here and there. It is a practice I have continued, and it has made a tremendous difference. 
Continuing to disconnect has been valuable because if I'm being honest, I am sometimes still ashamed of my circumstances. I judge myself for having been in a behavioral hospital. It makes me feel as though I am somehow weak or less capable than others around me. At times when I do go back on social media, it can be easy to compare where I have been with the beautiful pictures of where everyone else appears to be.
During this time, comparison led to shame — the same shame that caused me to be vague with most people. I just told everyone that I had been in the hospital and had finally been released because I was doing much better. The simple nutshell version was easy, but also made me feel like a liar. Still, the bones of it were all true. A hospital visit had occurred, and now it was over. The truth is, I still wasn't sure if I needed to be there or not. 
Liar or not, I was doing much better. It was time: I had to get back to life and one step was going back to work. I had so much to get caught up on. I had been in the hospital for a total of 14 days at this point and had missed about three weeks at my job. Piles of emails, events still to be planned, and phone calls to be made awaited me — and you know what? It felt great! Doing normal life things was a tremendous gift. Too often in life, I have taken "normal" for granted. 
This wasn't the end of my journey. I fainted a few more times in a few weird places that landed me back in the ER. At this point, it was almost a joke. I would wait and see how long it would take me to convince doctors and nurses to let me leave. My boss once again enforced the wheelchair rule and I wasn't able to drive a work vehicle. Restrictions began again. 
This truly was an "opposition in all things" experience. The very joy I felt in being normal started to be replaced with sorrow and disappointment. What had I not learned in this extremely long lesson? How much longer would God cause me to endure this impossible and frustrating trial? There were not a lot of answers. 
Soon I found myself sitting in a follow-up appointment with my doctor. It was there that I pointed out that the less medication I took, the more success I had. He wanted to change my medications again and I countered that maybe it was time to stop taking them altogether. Perhaps taking no medications was the real answer. He told me he felt it was a bad idea, but that I could try it for 10 days. I started that very day. He helped me to wean off the one medication that I couldn't quit cold turkey. A new record was made — 32 days between episodes!!! 
After going so long with such success, I felt like I was on top of the world again (or at least the normal version of my own world). However, I may have pushed myself back into life a little too quickly. After working a 5-hour temple shift and a 10-hour workday, I ended up passed out on top of a box of hangers at a register. It really freaked out the customer standing in front of me, who called the ambulance. I got the opportunity to go back to the hospital again. Guess what? A new medication came shortly after that — but this time I began being treated for some weird blood vessel thing in my brain. On this medication, I was incident-free for another 36 days. One episode in 65 days is a true miracle!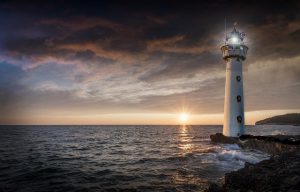 Heavenly Father must have known how deeply I needed this break from it all. It was a relief that allowed me more hope than I can even express. It helped me to remember what it was like to feel healthy. The break in the storm reminded me that while God does give us more than we feel we can handle, He also finds ways to ease the burdens that are placed upon our backs. 
Trials can be a lot like a storm. You can feel peace and calm, and even sunny for a time. However, clouds roll in, the lightning of life strikes, and soon there is a downpour of difficulty. The storm can be light rain drops or hurricanes of hard. Yet through it all, we can have a lighthouse of hope leading us back to where we need to be. 
About Ashley Dewey
Ashley Dewey is extremely talented at being single. Hobbies include awkward conversations with members of the opposite sex, repelling third dates, talking to boys about their girl problems and to girls about their boy problems. In her spare time she also has a very fulfilling school life, work life, and social life. Besides being a professional single, Ashley is also a BYU graduate with a degree in linguistics (Aka word nerd). She enjoys studying other languages, particularly American Sign Language, and finds most all of them fascinating. She is currently pursuing a masters degree in Teaching English as a Second Language. Ashley works most of the time and has often been accused of being a workaholic. Currently she works full time as a merchandiser and supervisor in a retail store, and part time doing social media work. On her day off she works (really it doesn't feel like work) in the Provo LDS temple. The only kind of work she finds difficulty focusing on is house work. Her favorite activities in her free time are reading, writing, creating social experiments, and spending time with great friends and family. Specific activities with those family and friends include: going to concerts, plays, dance recitals, BYU basketball and football games, and watching sports on television.
Twitter •