Some lessons are hard, and that's okay. Throughout my life, I have seen many people face challenges that seem totally beyond my capacity. Have you ever felt that way? I am sure that you have.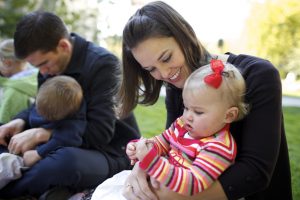 "I have never regretted a prompting to love." At least that's the way Holly Richardson starts her presentation on Hope Works. I connect with her words because I feel exactly the same way.
We hear amazing stories and lessons from incredible people that conquer overwhelming obstacles. As I was listening to Richardson's delivery, I thought of a cherished story I have already shared on this blog. It is one of my favorites and worth sharing again: 
While walking down the beach, a man came upon a boy vigorously picking up starfish that had been washed up on the sand and throwing them back into the ocean — but he had his work cut out for him because these little creatures littered the beach. Nonetheless, the boy ran from one to the next returning each to its haven in the water. The man surveyed the situation, realizing the immensity of this undertaking. Try as he might, this boy's efforts were hopeless when compared to the overwhelming task at hand.

So the man approached him and said, "Son, your ambitions are commendable, and I see your efforts are sincere; but you must know you can't save all these starfish. This beach alone extends miles more in both directions, and there are countless beaches on this coastline, let alone all across the world. This situation repeats every day when the tide goes out. You simply can't make a difference."

The boy stopped for a moment to consider the man's words. He placed his hand on his chin briefly as he contemplated this claim. But then with a renewed look of determination, he stooped down to pick up a starfish at his feet and with all his might, threw it back into the ocean wake. Then, turning to his detractor, he smiled and said, "I made a difference to that one."
Back to the "Lessons in Love" video below: my favorite part of the presentation comes toward the end, because her formula is something we can all do. She testifies for herself that she does not do it alone, and we need not feel we are on our own either. We must follow our heart, and that means listening to the Holy Ghost.
"I knew what I had felt, and I knew that God knew it" — and then she went ahead and did something incredible and overwhelming, and she loved it. Now with hindsight, it has become the peak of her happiness.
Serve as much as you can, and what you do will change lives… Starting with your own.
"The more I serve others and not just my immediate family, the better able I am equipped to handle the heavy demands at home. Incredibly, with God's plan, it also seems like I have more time." – Holly Richardson
If life seems overwhelming, get out and serve.
It is nothing short of incredible.
About Walter Penning
In 1989, Walter Penning formed a consultancy based in Salt Lake City and empowered his clients by streamlining processes and building a loyal, lifetime customer base with great customer service. His true passion is found in his family. He says the best decision he ever made was to marry his sweetheart and have children. The wonderful family she has given him and her constant love, support, and patience amid life's challenges is his panacea.
Twitter •