The coronavirus pandemic has changed how the schools in my area are working. They are closed for classes, but every teacher is trying to keep things going online. Parents are staying home with their kids and helping them with their education. This has been a big change for everyone. Since I have some experience with schooling at home, I wanted to help you with this transition.
Before I go on, I have to let you know that homeschooling and the online school the kids are doing now are not the same. Online schooling is an effort to continue the classroom experience. You must figure out the teacher and what they want from you to get a good grade. But it can be so much more.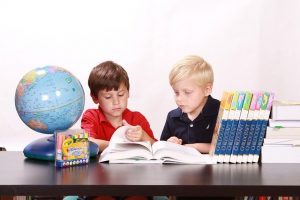 Now that you are home during this quarantine helping your child learn, you get to figure out how they learn. And you can make sure that every concept is mastered before you move on to the next one. Homeschool is the ultimate educational experience because if the topic isn't mastered, you get to try a different angle.
Find Their Learning Style
For me, finding my son's learning style has been the largest eye-opening experience in home education. My son has always done well in school and gotten good grades. But when I brought him home to teach him, he wasn't understanding what I was teaching. After some observation, I realized he is a hands-on, movement-based learner. This explained why his teachers always complained that he was so hyper — he was trying to learn! So, I dove into Pinterest and found every movement-based lesson plan I could find.
Now we keep something in his hands during lessons. We use fidgets, Legos, and even sensory sand or water beads. And when I can tell he is getting antsy, we get up and do something. My favorite thing lately is having a math race. I put flash cards in two lines along a "racecourse" the length of the house, and we race each other with whoever has the answers to the math equations first. It's a lot of fun!
Online School Resources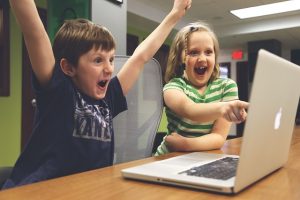 Early on I made the mistake of thinking I was responsible for all our classroom content. As a new home educating parent, you may be letting your child's teacher be the beginning and end of your online resources. But I have learned that Pinterest is a fantastic resource for lessons and activities. There are also a lot of online resources popping up specifically because of this quarantine.
Some of my favorites are stories.audible.com, where they have hundreds of children's stories to listen to for free. ClickSchooling.com brings you daily recommendations by email for entertaining websites that help your kids learn. If you love games, there are IXL, ABC Mouse, and ST Math. (ST Math is intended as a classroom extra, so there isn't as much instruction; you sometimes must guess what they are trying to teach you.) And if you like virtual reality field trips, you'll love Freedom Home Schooling and their awesome experiences.
Recently I have discovered Adventure Academy for kids ages 8-13 (they have a free 30-day trial). And of course, there is Lakeshore Learning Store, which has a million enriching activities to help your homeschool. And that's just the tip of the iceberg! There are more out there, and some are regional. So, I would do a google search for what is available near you.
Keep Calm
Above all, remember that this quarantine won't last forever. And look for the blessings around you. I have recently gotten to see my crocuses come up. I haven't noticed them in years! I am usually going at such a pace that they are gone before I appreciate them.
There is also more family time right now than ever before. I am so grateful the Church has prepared the home-based, Church-supported learning with Come, Follow Me. The lessons give my family a chance to have regular Sunday lessons even though we aren't leaving the house.
We have even been better able to have daily scripture reading since our schedules have been cleared. I think when this quarantine is all over, we will look back and realize that we have been given a gift — a gift of more quality time.
About Abby Christianson
Abby is capable and caring. She is learning more about Autism and parenthood every day. Having completed training to be an RBT (Registered Behavior Technician) for ABA therapy she is beginning to understand her son. And even though she is the first to admit she makes a lot of mistakes, she is so grateful to be on this journey. She comes from a family with many autistic members. She invites us to join her, as she shares her adventures. She wishes to emphasize that Autism is a difference not a defect. If you or a family member have autism, Abby wants you to know that the challenges can be overcome, and there are blessings in autism. You or your loved one are not sick or broken. Together we will teach the world this new language.
Twitter •