Fourteen years ago I was expecting my third child. It was my fourth pregnancy, but my third child, as I had lost my first pregnancy to miscarriage. Each pregnancy had brought on its own set of complications, and this one was no different. My baby's due date was July 12, and as I approached my due date it was evident that I would deliver early. I went to my doctor the week before my due date and upon examination found out that I was dilated to five centimeters with no signs of labor actually happening. After examination, my doctor decided that it would be best to induce as it was a holiday weekend and he worried that I might deliver in the middle of the night on the bathroom floor. My husband and I also felt that this was best.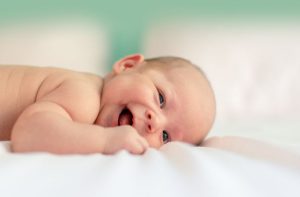 The next day, July 6th, we headed to the hospital so that I could be induced. Upon arriving at the hospital, I was dilated to six centimeters, so slightly farther along. The doctor immediately started an IV, broke my water and started a Pitocin drip to encourage contractions and labor. After several hours of hard contractions and labor, I was no further along in my labor than when I had walked in the door. On top of not making any progress, my baby was showing signs of distress. My baby's heart rate had dropped to 58 beats per minute and was slowly dropping further as the minutes passed despite my doctor's and nurse's best efforts to raise my baby's heart rate. When my baby's heart rate dropped below 50 beats per minute, my doctor said that he would be back in a few minutes because he was going to prepare for delivery.
Because I was nowhere close to delivering, I knew that this meant that I would need a c-section. The thought was terrifying to me! I didn't want a c-section, and the thought alone didn't feel right. But at the same time, I couldn't bear the thought of having to tell my older two daughters that we wouldn't be bringing our baby home from the hospital. While the doctor and nurse were gone, I asked my husband for a priesthood blessing, which he agreed to and willingly gave. A couple minutes after the blessing, my nurse returned to my room. Instantly I felt a pain that didn't feel normal. I told my nurse and she assured me that everything was okay and that she had just checked me and that I was still dilated to 6 centimeters. After a minute the pain subsided, then came back a minute later. I again notified my nurse about the pain. She decided to check me since I had an epidural and shouldn't have been feeling any pain. Upon examination, my nurse discovered that I was dilated to ten centimeters and was ready to deliver. My nurse immediately paged my doctor and within a couple of minutes, my doctor was in my room and ready to deliver my baby. But he didn't come alone — additional nurses and someone from respiratory accompanied him.
Approximately twelve minutes later, my daughter was born. She was blue, not crying nor responding, and nearly failing her one minute Apgar test. My daughter was immediately handed over to the other medical professionals as they worked to clear her airways and sustain her breathing and oxygen levels. My doctor continued to work on me since I had hemorrhaged. My focus wasn't on myself, but on my daughter as I watched the respiratory therapist and nurses work on her. It felt like an eternity until we heard the sound that every parent hopes to hear and my daughter's cries echoed in the room. Fireworks lit up the sky the night our daughter was born. We often refer to her as our "firecracker" as she came into this world with a bang — but was that bang necessary?
So many times we go into something or face a difficulty assuming that everything will be fine and that we don't need God's help. When I went in to deliver my third daughter, I assumed everything would be just fine — but it wasn't. Prior to going to the hospital, I didn't ask for a priesthood blessing and didn't pray asking for everything to be okay. Honestly, the thought had never crossed my mind! I had a blessing prior to the births of my older two daughters, but I didn't with this one. I just assumed that everything would be fine and didn't even think about it. But when it came down to the reality of the situation, I realized that I needed God's help. 
Suppose for a moment that I had asked for a blessing prior to going to the hospital… Would things have been different? Possibly, but I'll never know since I can't go back in time. But one thing is for certain — I would have had peace of mind. Peace of mind knowing that whatever was to come was strictly in God's hands. I would have had peace of mind knowing the doctor's hands and mind would be directed by God providing the absolute best care for my daughter and I. And I would have had peace of mind knowing that my Heavenly Father was watching over me. And while I had this peace of mind once I received the blessing, I could have had it all along had I had prayed or received a blessing beforehand. I'll never know if things could have been different, but I do know that I could have had peace of mind and comfort all along.
In the Bible we learn of Daniel, who was an honest, obedient, and faith-filled man. Daniel was preferred above the presidents and princes because of the excellent spirit that was in him (Daniel 6:3). Daniel loved and followed God. Many men were jealous of Daniel and didn't like him — and because of their jealousy, they wanted Daniel killed. These men assembled together and convinced the king to pass a law that if anyone was caught praying, they'd be cast into a den of lions. 
Despite the new law, Daniel continued to pray day and night. He consistently prayed and communicated with God on a daily basis. Daniel prayed before his trial ever began; in fact, he prayed multiple times a day just to simply communicate with God. Daniel continued to be obedient to God and didn't allow these men or this new law to shake his faith in God. Daniel's prayers didn't come only in moments of despair or fear, but in times of happiness and gratitude. He knew the power of prayer and how important it was to pray at all times — not only in times of need, but in joyous occasions as well.
One day, Daniel was found praying and was brought before the king. The king told Daniel that if his God was real, He'd deliver him from the lions' den. Daniel was then thrown into the lions' den. During a time when he should have been filled with fear, Daniel was protected from the lions. The lions' mouths were shut and they did not harm him. The next day, God delivered Daniel from the lions' den when the king went to check on him. Upon discovering that he was still alive, the king let him out. He was delivered from the lions' den.
Like Daniel, in life we're going to face difficulties, challenges, and troubling times. It's part of our earthly experience. Even a joyous occasion like the birth of a baby can be a trying time. Today we're faced with great adversities just as we face day-to-day life. Then throw in the confusion and fear from the COVID-19 pandemic and it only complicates things further as our faith in God is put to the test — just as Daniel's faith was tested. While we will probably never physically be cast into a lions' den, oftentimes our fears mentally and emotionally put us there. We fail to recognize that had we prayed from the beginning before our troubles ever began and before our fears set in, our own personal lions would be hushed and we'd have peace of mind to see God's helping hand. We'd find it easier to hand our fears over to God knowing and having faith that He will cease our fears and deliver us from our troubles, giving us peace of mind regardless of the adversity we face. Isaiah 41:10 reads:
'Fear thou not; for I am with thee: be not dismayed; for I am thy God: I will strengthen thee; yea, I will help thee; yea, I will uphold thee with the right hand of my righteousness."
"Fear thou not; for I am with thee" — God is there! He is there to ease our fears and provide comfort and peace of mind. He is there to deliver us from our own personal lions' den. Our Father in Heaven wants to hear from us always — not just during our times of need, but in joyous times as well. And just like it was important for Daniel to pray and communicate with God at all times, it's equally important for us as well. 
God is there for us always and patiently waits for us to ask for His help and place our trials into His helping hand. And while our Father in Heaven may not immediately answer our prayers, He does hear them and will strengthen us and silence our own personal lions.
We just simply need to ask and allow God to help us and place our troubles in His hands, even if it's not the answer that we want to hear or the way that we want Him to help us. When my daughter was born, it wasn't the way that I wanted it to happen. I had longed to hold my baby right after birth since I didn't get that opportunity with my second daughter. But it didn't happen that way. However, our Father in Heaven silenced my fears as a C-section was avoided and He provided the comfort and peace of mind that I needed as the doctors and nurses worked on my daughter and me. The next day after my daughter was born, the doctor said that he didn't know how he got the internal fetal monitor to stay on my daughter's scalp because she had so much hair! We were very well cared for — and not just by the medical professionals, but by our Father in Heaven. Prayers were answered, even if it wasn't in the way that I had wanted. And I couldn't ask for a better place to leave my troubles, my fears and my adversities than in God's hands.
Lead image via LDS Living.
About Marie Yvonne
Marie Yvonne is a motivational and devotional speaker for teens and young adults. In her devotionals, she shares her personal testimony and journey of learning to accept herself as God created her. Her journey can also be found on social media and her personal blog and website, TheConfidenceToShine.com.