Did you try President Russell M. Nelson's gratitude challenge to the test?! Or had gratitude's blessings already permeated your life?
I love a good science experiment! Show me erupting "lava" or "mysteriously" disappearing compounds and I laugh with delight. The results are generally fast and predictable.
So I found it fascinating that our prophet asked us to experiment on his word and find the results of his gratitude challenge for ourselves.
My sister Destinee is a bona fide scientist. She supervises a lab looking for results every day.
So I perked up as she shared her observations — raw and undiluted — of President Nelson's gratitude challenge.
Destinee White: A Scientist Experiments with the Gratitude Challenge
A little over a week ago our prophet, President Nelson, issued an invitation to express gratitude to the Lord publicly (on social media platforms) in an effort to flood it with goodness and gratitude (that he hoped would fill the world). The reason – to act as a prescription or medication against the many ills that plague the world, namely, COVID19, hate, civil unrest, racism, violence, dishonesty, and lack of civility.
To me these seemed to echo the warnings found in 2 Timothy of what might be found in our time:
This know also, that in the last days perilous times shall come.

For men shall be lovers of their own selves, covetous, boasters, proud, blasphemers, disobedient to parents, unthankful, unholy,

Without natural affection, trucebreakers, false accusers, incontinent, fierce, despisers of those that are good,

Traitors, heady, highminded, lovers of pleasures more than lovers of God;

Having a form of godliness, but denying the power thereof: from such turn away.
President Russell M. Nelson's Gratitude Challenge
President Nelson said
I have concluded that counting our blessings is far better than recounting our problems. No matter our situation, showing gratitude for our privileges is a fast-acting and long-lasting spiritual prescription. Does gratitude spare us from sorrow, sadness, grief and pain? No, but it does soothe our feelings. It provides us with a greater perspective on the very purpose and joy of life.
He goes on to discuss the heartbreak and sadness he has felt and follows it immediately with ways we can all be grateful. He specifically invites us to identify for what, for whom and why we are grateful. Then he urges us to take those public expressions to our private prayers with God.
Initial Reactions to President Nelson's Gratitude Challenge
I was personally moved by these invitations – feeling the need within myself to express my gratitude more often. As something of a scientist at heart, I was also interested to observe how this gratitude challenge worked in my own life as well as those around me.
The first thing I noticed was blatant opposition from non-members, once members, and members alike. Blasting the prophet for believing that such a simple act could cure the ills that plague us today. Expressing disbelief that such actions are helpful (and actually that this act was in fact causing more harm than good).
Somehow these comments affected me and overshadowed my initial feelings of wanting to follow the prophet's counsel. I felt guilty for sharing anything that I was truly grateful for especially if it was causing harm to others. I started the challenge, but I was just going through the motions.
The Real Promise of Gratitude

As I began to read the thoughts of so many, I began to observe something else: President Nelson's comment was absolutely true – Gratitude does not spare us from sorrow, sadness, grief, or pain. And he never promised that it would.
I saw countless examples of people who shared gratitude for events that were outside of their control — things that brought them learning, understanding, compassion, and a closeness to God even through the pain they were feeling. I saw people sharing avenues for healing and hope that they may not have shared in this same way.
For example, one woman who has dealt with learning how to love her husband intentionally even when he had lost his faith in God shared a group of support for any who may be passing through a similar situation. So many people commented on her post expressing gratitude to her for sharing this way to gain support.
Others shared how they were able to make it through trials with the help of the Savior, repentance, or finding new ways of coping. Others honestly admitted the pain and sadness they currently feel, while also gracefully acknowledging blessings they have received.
The Scientist Experiments

I began to ponder more seriously the things I am personally grateful for and to put more of an effort in identifying those things — to really feel the gratitude before posting about it. During the week, I had an especially hard night, involving darkness and feeling lost and alone.After feeling the darkness cloud around me, I had a spark of thought that reminded me of something that President Nelson said in his invitation,
At the end of seven days, see if you feel happier and more at peace.
In that moment, I sought peace in my heart and in my darkened mind. But it was very difficult to turn my head to thoughts of gratitude. I know that I am weak-minded in many ways and I was being attacked in my weakness. With that reminder of the prophet's words, I had the catalyst I needed (if I would so choose) to help me through the darkness.
Somehow I mustered enough strength to think of something I was grateful for. It might seem strange, but in my scientific/observant mind, I examined myself in that moment: did anything happen? Was anything different? If so, what? Why did it happen?
Elder Rasband said in his April 2020 conference talk "Consider the Goodness and Greatness of God"
…each of us has received gifts that we could not provide for ourselves, gifts from our Heavenly Father and His Beloved Son…Every time we use, benefit from, or even think of these gifts, we ought to consider the sacrifice, generosity, and compassion of the givers. Reverence for the givers does more than just make us grateful. Reflecting on Their gifts can and should transform us.
In that moment, there was a change in me, even if only slightly at first. I could not deny that what I was grateful for truly had value to me. And what I chose in that moment to be grateful for led my eyes to look to Christ as He was the one who was giving that gift to me. I felt loved by Him and that was the moment that the spark turned into a bigger flame in my head and heart.
I testify that gratitude doesn't necessarily remove the hard things from our lives, but it does help to soothe our feelings and provide greater perspective.
A Call to Turn to the Savior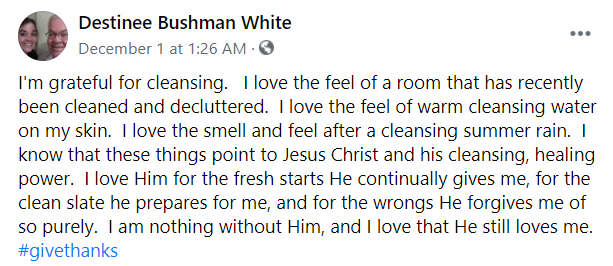 This gratitude challenge from a prophet of God was a call to turn to our Savior and Redeemer. He knows that by turning to Him, we can be eternally blessed. Elder Rasband also explained:
Our Heavenly Father wants us to recall His and His Beloved Son's goodness, not for Their own gratification but for the influence such remembrance has on us. By considering Their kindness, our perspective and understanding are enlarged. By reflecting on Their compassion, we become more humble, prayerful, and steadfast.
He goes on to discuss many blessings and characteristics we can receive by regularly remembering the greatness of Heavenly Father and Jesus Christ, which is another form of gratitude.
By acknowledging that every good thing comes from Jesus Christ, we will communicate our faith more effectively to others. We will have courage when confronted with seemingly impossible tasks and circumstances. We will strengthen our resolve to keep the covenants we have made to follow the Savior. We will be filled with the love of God, want to help those in need without being judgmental, love our children and raise them in righteousness, retain a remission of our sins, and always rejoice. These are the remarkable fruits of remembering God's goodness and mercy.
I am truly grateful for so many blessings in my life. I am grateful for my family and the miracles I have seen throughout my life because of the faith and example of my parents, siblings, and extended family. I am grateful for the gospel which brings peace and hope even in dark times.
I am grateful for a loving Heavenly Father, who invites us to do things that will turn our hearts to Him. I am grateful He sent His Son to be an example for us, to enable our success, who suffered for us with the added intention of knowing our suffering perfectly so He would know perfectly how to succor us.
About Delisa Hargrove
I am a member of The Church of Jesus Christ of Latter-day Saints. I have moved 64 times and have not tired of experiencing this beautiful earth! I love the people, languages, histories/anthropologies, & especially religious cultures of the world. My life long passion is the study & searching out of religious symbolism, specifically related to ancient & modern temples. My husband Anthony and I love our bulldog Stig, adventures, traveling, movies, motorcycling, and time with friends and family.