A guest post by Major Cohen:
As nice as it is to be able to search records from home on Internet, there are many valuable records that are not online, at least not yet.  These records can be found in county courthouses, church annexes, state archives, libraries and historical/genealogical societies.  To access these records you will need to call or email or snail mail or visit the records location.  At FamilySearch.org there is a tool that may save you time and the need to travel to view some of these records.
Come with your FHE family to the LDS Share Expo! You will learn how to share the gospel on all your favorite social media sites. There will be fun speakers, games, and prizes! Let's not forget the food either! Don't forget to bring some kind of device that connects to the internet! Mon, March 31, 9:00 PM
Your personal witness is often the only way for the Spirit of God to reach certain hearts.  Your witness matters!  Let me explain.  The first Sunday of the month is the day that LDS congregations fast.  We fast for a variety of reasons, and then gather to have a special testimony meeting.  It's a lot like an open mike night, and anyone who feels moved by the Spirit is welcome to get up and bear their witness of Christ.  Yesterday was one of those Sundays.  My young son loves to get up and bear his witness.  He is brave, and free with his love for the Savior.  It is inspiring.
While watching the figure skating for the Winter Olympics in Sochi this year, I take my usual posture—sitting on the edge of the couch, eyes glued to the skater, heart pounding.  I love the beauty and grace with which the athletes perform. But my heart skips a beat for a second as they prepared to jump. In that instance, I hold my breath and wonder, "Will they make it or will they fall? And if they fall, how will they recover?"
When Christ came to the earth, He blessed others to heal from sickness and all infirmities. He even brought people back from death.  This power He had is called the Melchizedek Priesthood.
As a single adult a good chunk of my time is spent in the company of one person–me! Sometimes I find it remarkable the number of things that I am blessed to do by myself. Often I go to church, to activities, to sports events, to movies, to dinner, to basically everything on my own. Some may say this to be sad, but I would like to submit that I'm not really ever alone.
Occasionally, someone drops a load of bricks on my head to remind me not to get too complacent in my marriage.  Taking my marriage for granted could be very dangerous.  The first load of bricks hit me in my career as a legal secretary.  I worked in many law offices, but the two years I worked in family law was an eye opening experience.  In spite of the fact it was the worst job I had in my life, I believe I was employed there for a reason.  I learned to appreciate my own marriage.  Listening to people airing their dirty laundry day after day was bad enough, but counting the number of years they had been married was frightening.  A good number of the cases we dealt with were couples who were divorcing after 25 years or more.  I began to closely examine my own marriage, appreciate my husband more, and initiate a few important discussions.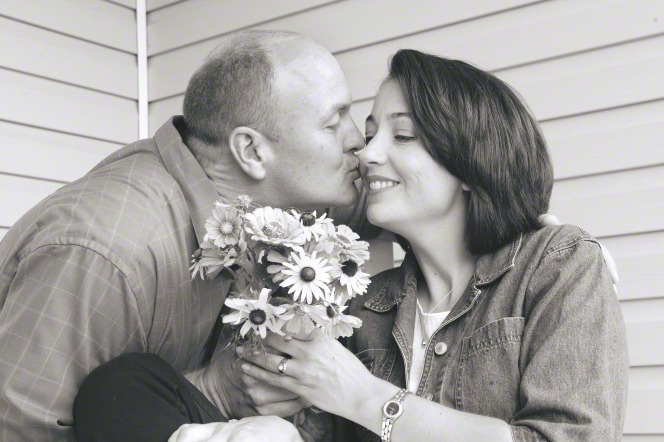 That was a very busy time for us with three teenagers and another child in elementary school.  One day while listening to a man complain that he and his wife rarely talked about anything but the kids, and they almost never spent time alone, I was rudely awakened to the fact that he could have been describing my own marriage.  That night I corralled my husband for a trip to the Dairy Queen where a serious discussion ensued, we committed to regular date nights, and promised to talk more.
We laugh now about the dates that followed.  Most of them consisted of chocolate dipped cones from the drive-up window at the Dairy Queen, followed by eating them in the car in the driveway watching our children fight through the front window.  The kids never had a clue we were out there watching.  It was like watching a 3D movie—only more fun.  It worked, and we found ourselves talking more and really renewed our friendship.  After all, isn't that the crux of a good marriage—being best friends? (more…)
I have had people ask to come over and watch our homeschool in action. I have wondered how that would work. Although we have learning time set aside, we don't really start or stop learning. I thought sharing one day as it actually happens might give people some idea of what homeschooling is for us. We don't cover all subjects every day. I am fully aware that this is not the perfect day.
Spring is just around the corner and that means two things for me. Gardening, which I love, and spring cleaning which I love even more! Hi, my name is Krystal and I am a cleanaholic! I love, love to clean. Blame it on my Dad, whom we have nicknamed the next Martha Stewart. He's what you might call a little OCD, and I have inherited that from him! There is just something about purging and getting rid of all the stuff you don't use anymore, and starting with a fresh clean house for the summer! My husband doesn't like spring cleaning; he hardly finds it as fun as I do, and I literally have to drag his feet or bribe him to help. I don't blame him. It's a lot of work, but it's something that needs to be done!