More than a decade ago, the late Church President Gordon B. Hinckley (1910-2008) addressed the topic of racism when speaking to members of The Church of Jesus Christ of Latter-day Saints. He powerfully and clearly taught this principle: "No man who makes disparaging remarks concerning those of another race can consider himself a true disciple of Christ. Nor can he consider himself to be in harmony with the teachings of the Church of Christ."

For members of the Church, we reaffirm that teaching today and the Savior's admonition to love our neighbor. Our prayers are with those who are suffering because of this intolerance and hatred. We pray for peace and for understanding. Above all, we pray that we may treat one another with greater kindness, compassion and goodness.
A Harmonious Ecosystem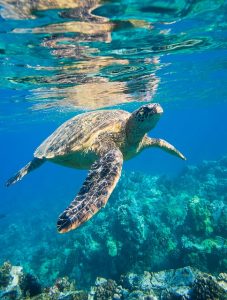 I love snorkeling at Electric Beach.  A long, huge pipe from the power plant dumps hot water into the sea at this point on Oahu's west side.  The impact of the hot water meeting the ocean creates a curious effect–almost like oil on water that's easily visible from the shore.
Swimming in this spot feels like I'm in a sauna.  The water is so hot. I enjoy it for a few minutes at a time and then retreat to the edge of the area to cooler ocean waters.
Sea turtles play among the rocks and reef. Dolphins frolic in the area. Once I swam over a blacktip reef shark lazily swimming away from the tube.  And the fish!  So many fish varieties!  I wish I knew what kinds of fish they were–blue fish, purple fish, yellow fish, silver fish, black fish, white fish, orange fish, tiny fish, bigger fish!
I know that everything I mentioned is food for everything else I mentioned. But every time I'm in the waters, except for an anxious fish protecting its territory, everything from sea moss to shark seems to harmoniously enjoy its shared ecosystem. Most smaller fish swim in little groups, the larger the fish, the smaller the group, except for the dolphin pods.
Our ecosystem is similar. People enjoy spending time with folks of similar interests–in families, the work friends, the church friends, the pet pals, the gym buddies, the nature lovers, the foodies, the gamers, the roadies–all navigating through our ecosystem together in large groups or smaller and smaller groups.  It doesn't matter. We can all choose what kind and size of a group will bring us happiness.
There's always been the anxious fish protective of its territory. In my version of this metaphor, this fish represents someone fixated on his or her "rightness." This fish fights off any fish that is different and even fish that seem similar to itself but somehow threaten its rightness.
It is with great sadness and deep concern that we view the violence, conflict and tragedy of recent days in Charlottesville, Virginia. People of any faith, or of no faith at all, should be troubled by the increase of intolerance in both words and actions that we see everywhere.
To Love Others Is a Commandment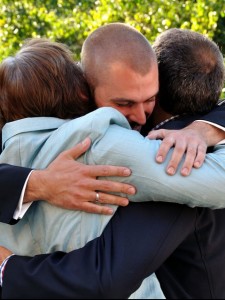 As Latter-day Saints, we believe and teach that God is the Father of all mankind. Each soul possesses the light of Christ with divine attributes and characteristics. The first and basic commandments are to love God and to love our fellow man. To love them.
Love is an intense feeling of deep affection.
"Love thy neighbor as thyself."

"Love your enemies, bless them that curse you, do good to them that hate you, and pray for them which despitefully use you, and persecute you; That ye may be the children of your Father which is in heaven."

"Beloved, let us love one another: for love is of God; and every one that loveth is born of God, and knoweth God. He that loveth not knoweth not God; for God is love."
He that loveth not knoweth not God. Even if I only don't love one person? Simple. Profound. Convicting.
For God So Loved The World
During a vision, Enoch saw God's creations!  How glorious! But Enoch noticed the heavens weeping. In the midst of such amazing glory, even the Lord wept. Shocked, Enoch asked why.  Why did the Creator weep? The Lord's response conveys the intensity of the Father's feelings of affection, His love.
The Lord said unto Enoch: Behold these thy brethren; they are the workmanship of mine own hands, and I gave unto them their knowledge, in the day I created them; and in the Garden of Eden, gave I unto man his agency;

And unto thy brethren have I said, and also given commandment, that they should love one another, and that they should choose me, their Father; but behold, they are without affection, and they hate their own blood;

But behold, their sins shall be upon the heads of their fathers; Satan shall be their father, and misery shall be their doom; and the whole heavens shall weep over them, even all the workmanship of mine hands; wherefore should not the heavens weep, seeing these shall suffer?

And that which I have chosen hath pled before my face. Wherefore, he suffereth for their sins; inasmuch as they will repent in the day that my Chosen shall return unto me, and until that day they shall be in torment;

Wherefore, for this shall the heavens weep, yea, and all the workmanship of mine hands.
Do I Love?
Do I love my fellow man? If not, why not?
I want to love as the Savior loves, but I still fall short with ego-induced judgments towards others and myself. I worry about mirroring Jonah's love for a gourd more than God's children he was sent to save.
The Lord provided the gourd to shield Jonah from the bitter sun and the wind while he sat disgruntled outside of Ninevah. Why was he disgruntled? Because the people repented. Somewhere in his heart, apparently Jonah hoped they'd be destroyed in their sins.
What is the condition of my heart? Do I see the divine in every blue fish, red fish, silver fish, big fish, little fish? Am I an anxious, bitter territorial fish?
It's time to examine our hearts and to choose.  When we've chosen, it's time to stand. There is something everyone can do in their own ecosystem, starting by avoiding their ego-system. When we're willing, the Lord will magnify our talents in ways we can't even begin to imagine. Love, charity, will fill our hearts. And we will want to do more and be more to all of Father's children.
Love is one of the chief characteristics of Deity, and ought to be manifested by those who aspire to be the sons of God. A man filled with the love of God, is not content with blessing his family alone, but ranges through the whole world, anxious to bless the whole human race. -Joseph Smith
About Delisa Hargrove
I am a member of The Church of Jesus Christ of Latter-day Saints. I have moved 64 times and have not tired of experiencing this beautiful earth! I love the people, languages, histories/anthropologies, & especially religious cultures of the world. My life long passion is the study & searching out of religious symbolism, specifically related to ancient & modern temples. My husband Anthony and I love our bulldog Stig, adventures, traveling, movies, motorcycling, and time with friends and family.