Editor's Note: Like a few other articles in Walter's "Arise and Be Men" column, this article was written by someone other than Walter—a fellow gospel brother. (Select articles feature different males whom Walter loves and respects.) As with all of Walter's "guest pieces," this article provides a wonderful opportunity to get a glimpse into a different man's gospel perspective and to learn from his life experiences.
Read part one here. 
"If any of you lack wisdom, let him ask of God, that giveth to all men liberally, and upbraideth not; and it shall be given him. 

But let him ask in faith, nothing wavering. For he that wavereth is like a wave of the sea driven with the wind and tossed" (James 1:5-6).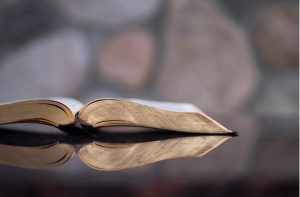 As I was pondering the latter part of that scripture, I thought about my experiences of being in the ocean and just what it means to be like a wave of the sea driven with the wind and tossed. As Elder Cook once shared with us, the force of a wave is extremely powerful. So if wavering is like the power of a wave from the ocean, how much more powerful are we when we have faith and cannot be driven?
Young men and young women, I would like to focus my thoughts on you for a few minutes and say to you, be not driven by the winds, but be steadfast, always abounding in good works, being led to glorify God. You are an amazing group of youth. You are young men and women with purpose, hope, strength, courage, and faith. You hold the priesthood, do service projects, and you love the gospel. You cannot — I repeat, cannot — allow anything or anyone to shake your faith. You know that the gospel is true; you have born your testimony of it. I have heard you. You have given talks and shared experiences that are surely from your heart. You have felt the inspiration that comes from being obedient to the whisperings of the "still small voice."
I am sure all of you who are [reading this] today have felt the pressures of classmates who do not have the same foundation that you have been given. They may not have the same set of high standards that you have been raised to maintain. Do not be tempted to go with the flow—you do not want to be tossed like that wave or be sucked into the undertoe. Once you are engulfed by the powerful forces of evil, you will have a difficult time keeping your head above water. I might even suggest that you wear a life vest. Let the scriptures, your prayers and good choices, and the strength you can gain from choosing the right act as a life vest that will always keep you afloat.
Remember how I mentioned that faith requires action and effort in order to have success, and that sometimes you have to do a little maintenance in order to achieve the optimal results? Like pulling the weeds from a garden, we too need to "weed" ourselves of the things that can choke out our faith.
"Personal Inventory" Questions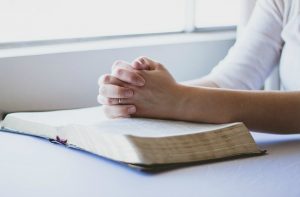 I think I can ask two questions that will help me; you can ask yourself these questions too. They will help us know what direction we are heading in and maybe the answers can be somewhat of a personal inventory:
Is there anything that I am doing that would keep me from growing in the gospel?
Is there anything that I am Not doing that would keep me from growing in the gospel?
There may be a lot of other questions you could ask, but I think these two sum it up plain and simple.
We must seek first the kingdom of God and His righteousness before we are going to be able to have all of the blessings that we desire. 
As we exercise our faith in the Lord Jesus Christ and all of the gospel principles, we receive blessings and an increase in our testimonies. As we share our testimonies, all of these things are increased even further. And so of course I turn my next thoughts to missionary work and the faith that is required in sharing the gospel. We have been charged with the duty to tell our family, friends, neighbors — everyone, really — about the gospel of Jesus Christ. Do you share it? Do you try? Are you frightened, afraid of rejection? Do you think they will think different about you, look at you funny, not want to listen to you, not believe you? Are you worried they will shut the door in your face or ask you to leave?
We need to have a strong enough testimony to not be shaken by these types of obstacles. It is not us who will make these people believe, but the Holy Ghost that shall prepare their hearts for the message when the time is right. It is not up to us to decide who should and should not have the chance to hear the principles of the gospel.
Is there anyone here who would hesitate to share the happiness they received through a wonderful vacation, sporting event, or some other great experience? This seems to be a natural part of conversation. Why, then, do so many of us seem to clam up when it comes to sharing the gospel, when it too brings happiness and great joy? Again, I think we need to check that personal inventory that I mentioned earlier and reiterate those questions of what we are or are not doing to allow growth in the gospel. I believe that the stronger your testimony gets, and by exercising faith, the more ready we will be to do our part in proclaiming the gospel. My heart is filled with love for the missionaries who are serving all over the world, especially those who are faithfully serving from my own ward. We as member missionaries need to support their efforts. 
The late President Hinckley once spoke these words in a general conference address:
"And so, my brothers and sisters, we are met together to fortify and strengthen one another, to help and lift one another, to give encouragement and build faith, to reflect on the wonderful things the Lord has made available to us, and to strengthen our resolve to oppose evil in whatever form it may take.

We have become as a great army. We are now a people of consequence. Our voice is heard when we speak up. We have demonstrated our strength in meeting adversity. Our strength is our faith in the Almighty. No cause under the heavens can stop the work of God. Adversity may raise its ugly head. The world may be troubled with wars and rumors of wars, but this cause will go forward.

You are familiar with these great words written by the Prophet Joseph: 'No unhallowed hand can stop the work from progressing; persecutions may rage, mobs may combine, armies may assemble, calumny may defame, but the truth of God will go forth boldly, nobly, and independent, till it has penetrated every continent, visited every clime, swept every country, and sounded in every ear, till the purposes of God shall be accomplished, and the Great Jehovah shall say the work is done.'"
Christmastime: The Perfect Season for Sharing Our Beliefs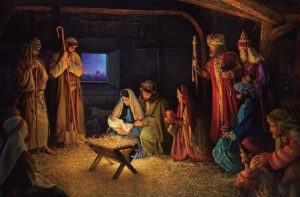 Isn't this the perfect season to share what we know to be true? Through acts of love and service, and through our examples, we can show our love for the Savior and share His message of hope. As we faithfully live our lives as Christ did and look to Him as our ultimate example, our faith will surely increase.
A few years ago, I was working at my laptop and stepped away for a few minutes. When I returned, I found a note was left on my keyboard. 
It read, "Dad, when you have a minute, will you please give me a blessing?" I sat there for a moment looking at that precious note and thinking about how lucky I was to have the priesthood to be able to bless my family. I thought about the faith of my child who felt the need for a blessing and instead of sitting idly by, took the action to ask. I love the gospel, I love my family, and I have faith that the priesthood is real and works miracles daily in the lives of those who seek the blessings of that priesthood.
The following are the words to the popular hymn "True to the Faith":
Shall the youth of Zion falter
In defending truth and right?
While the enemy assaileth,
Shall we shrink or shun the fight? No!
True to the faith that our parents have cherished,
True to the truth for which martyrs have perished,
To God's command,
Soul, heart, and hand,
Faithful and true we will ever stand.

While we know the pow'rs of darkness
Seek to thwart the work of God,
Shall the children of the promise
Cease to grasp the iron rod? No!
True to the faith that our parents have cherished,
True to the truth for which martyrs have perished,
To God's command,
Soul, heart, and hand,
Faithful and true we will ever stand.

We will work out our salvation;
We will cleave unto the truth;
We will watch and pray and labor
With the fervent zeal of youth. Yes!
True to the faith that our parents have cherished,
True to the truth for which martyrs have perished,
To God's command,
Soul, heart, and hand,
Faithful and true we will ever stand.

We will strive to be found worthy
Of the kingdom of our Lord,
With the faithful ones redeemed
Who have loved and kept his word. Yes!
True to the faith that our parents have cherished,
True to the truth for which martyrs have perished,
To God's command,
Soul, heart, and hand,
Faithful and true we will ever stand.
"It Mattereth Not Unto Thee"
We read about the stripling warriors, the brother of Jared, Moses, and many other great scripture heroes who had great faith and accomplished great things. Well, guess what? That very same faith is available to us today too! It did not just exist in extra-strength prescriptions back in the day. We can have it and we can show it, just as the hymn stated. Cease to grasp the iron rod? No! We are who we are because it feels good. We know it is right and we have had the Holy Ghost testify to us that the gospel of Jesus Christ is real. No person can take that away from us. It doesn't matter what other people are doing or saying.
In Ether 12, Moroni tells us that he offered up a prayer that the Gentiles might change and have charity—but this was the answer he received:
"And it came to pass that the Lord said unto me: If they have not charity it mattereth not unto thee, thou hast been faithful; wherefore, thy garments shall be made clean. And because thou hast seen thy weakness thou shalt be made strong, even unto the sitting down in the place which I have prepared in the mansions of my Father" (Ether 12:37).
It doesn't matter what others are doing or saying.
We are The Church of Jesus Christ of Latter-day Saints, and we are a people of faith. A truth has been brought about for all nations to hear, even the restoration of the gospel, the plan of salvation. These things are for everyone.
Through our faith, we can know of a surety that Jesus is the Christ, that He was born of lowly circumstances, and that He lived and died that we may live again with our Father in Heaven. This Christmas, let us each have the faith to give away a gift that was freely given to us as we share the gospel of Jesus Christ. I bear testimony that my faith has increased through being obedient to the principles of the gospel and that my testimony of our Savior has increased as well. As I have taken my own personal inventory and have sincerely asked Heavenly Father to allow the Atonement to work in my life, I have come to know just a portion of the enabling power of the Atonement.
Brothers and Sisters, the gospel is true, I love my Savior and know that He lives. 
About Walter Penning
In 1989, Walter Penning formed a consultancy based in Salt Lake City and empowered his clients by streamlining processes and building a loyal, lifetime customer base with great customer service. His true passion is found in his family. He says the best decision he ever made was to marry his sweetheart and have children. The wonderful family she has given him and her constant love, support, and patience amid life's challenges is his panacea.
Twitter •